Ohrid in Macedonia is about lakes, churches and pearls. And good food, beauty and sports.
That said, my first morning in Ohrid began on a warm and sunny note, fortunately, for when we arrived the earlier evening, it was cold and grey with predictions of rain – but one of the many saints of Ohrid was rooting for me – and it so happened that from the time I woke up over the Lake at Inex Gorica at 5.30 am, the weather steadily improved and before long Ohrid was transformed into a shimmering sheet of blue.
Soon enough, we set out to explore this beautiful lake town, that I heard had the best churches, pearls and mouthwatering Ohrid trout (more about this in a separate post).
From the word go, I was smitten. I must have spent a considerable time photographing every swan on the lake, peering into every cafe and running through every street-side shops that sold jewelry before finally making peace with myself an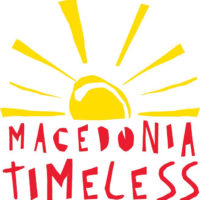 d settling down to exploring the town on foot. It was blessing to have Maja and Martin by my side!
First things first – we walked along the lake to the most famous and picturesque church perched on the lake edge – The Church of St John, passing of course little churches tucked away between rocks and under trees and drinking coffee en route – the day was warm, the lake was blue and that only meant beautiful pictures and absolute peace.
Very surprising was that there were not too many tourists – I suppose it was the beginning of winter that kept them away – but I was only glad.
There are 365 churches in Ohrid – one for each day of the year! You could easily spend at least six months in Ohrid exploring all of them – big and small, built on hills or tucked between rocks. 
I suppose, these pictures you see are a sufficient proof of what Ohrid Lake is really like! In my defense, the place left me speechless. While here, it pays to remember that the town is built around a hill and that means a lot of walking up or down – translate that into comfortable shoes! The walking streets are cobble-stoned, so you should get the idea.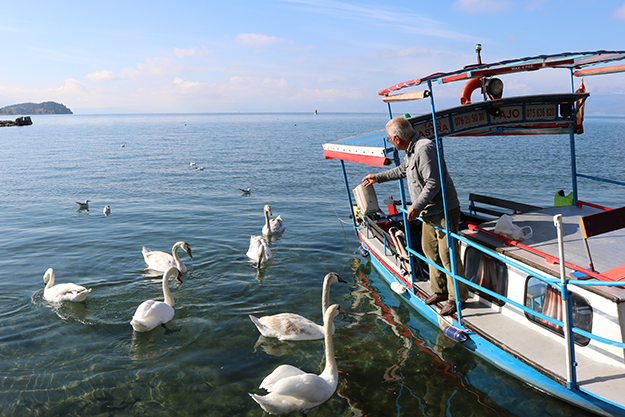 Lake Ohrid and Ohrid were accepted by UNESCO as Cultural and Natural World Heritage Sites and is one of the 28 sites that are part of UNESCO's World Heritage that are both Cultural and Natural sites.

USEFUL INFORMATION
Distance from Skopje: 171 km. Unless you are driving yourself, buses are a good option. Buses run every few hours and is a convenient way of getting here, taking about 3.5 hours (Cost 10 USD or 8.5 Eur)
International bus connection: This includes buses to and from Austria, Germany, Switzerland, Italy and Slovenia. 
Air Travel: Ohrid has an international airport – St Paul the Apostle located at a distance of 7 km from city center. This airport connects Ohrid with Amsterdam, Belgrade, Brussels, Zurich and Tel Aviv.
Accommodation: From luxury hotels to hostels and rental apartments, you have plenty of choices. However, it is advisable to make a reservation in advance.
The city of Ohrid is a "walkable" city and most of the attractions are accessible on foot. Wear comfortable shoes if you intend to do a walking tour!