Volunteer travel is the perfect way to explore the world in a meaningful way. Travelling always does not mean exploring new places or meeting new people there is a greater connotation to it. It can be more gratifying when one travels for a cause. Mother Nature has given us these beautiful places to explore but it is our social responsibility to travel to these mesmerizing places and give something in return in our own possible ways. This is what I call "Volunteer Travelling" and if we travelers across horizons are aligned on this, we can make this world- a beautiful place to live.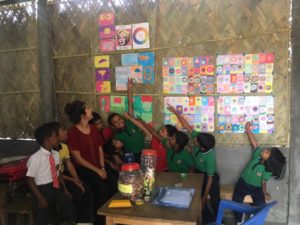 LMT School: A family Initiative 
Established in 2017, LMT school is a low budget private school in Dimow. An endeavour to provide the best possible education at one of the most remote areas of Assam. This is an initiative to help and guide the kids to open up their arms and embrace the light of arts, crafts, sports, music, yoga etc. This gives them an opportunity to face the world by taking part in workshops conducted by volunteers from all over the world.
Objectives of the School:
● Holistic education to the kids
● An initiative to create a different perspective to the society and create future leaders.
● The kids are trained on what they love to do.
● All possible guidance and training are provided to the kids.
This school is run by the local Taye family. Gobin Taye a lawyer practicing at Guwahati high court, John Taye is an interior designer and teaches yoga with his wife Sarah (a  journalist) at Luxembourg, Sunil Taye, left 10 years of corporate job to take care of the school with wife who  works in medical department and also manages the finances of the school.
Volunteers Tourism Programs Available
Teaching the students in LMT School: If you are in Dimow for a short while, we wouldn't recommend working with children. It is not beneficial for children to have volunteers come in and out of their lives at such a rapid rate. This system of volunteering does not give them stability and the actual long-term support that they need. If you have a longer time to commit with proper planning, you can consider teaching.
Organic Farming in Kukuli organic farm: The story of kitchen/food garden started with a husband willing to give his wife what she loved- own kitchen/ food garden. The food/kitchen garden is now growing up to be an amazing food forest. The farm growing hand in hand with the kids. Volunteers can contribute valuable labor, among other benefits, to their host farm destinations. The results find that this non-commercial volunteer exchange is a form of tourism, and that it overlaps to a certain extent with more commercial tourism activity. The contribution of volunteer tourists to organic farms as human resources is an example of a symbiotic relationship or synergy between tourism and environmental projects.
Get in touch: ullah.imtiaz10@gmail.com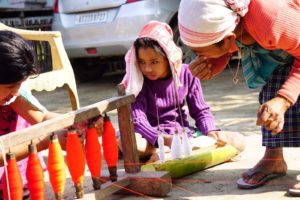 Facilities for Volunteer 
● Stay at a local homestay/ bamboo huts
● Food – two meals a day and also tea
● Vegetables are homegrown and completely fresh
● Food and lodging is free of cost in lieu of services provided to the host community
● 4G network available- Jio, Airtel, Vodafone, BSNL
How to Travel to Dimow 
● Guwahati is well connected by flights 
● Nearest airport – Mohanbari Airport (Dibrugarh ) 1.5 hour drive to Dimow, Dhemaji, from the airport
● From Guwahati by Railway- Kamakhya Junction to Simenchapari station (7kms away from Dimow)
● From Guwahati by Bus Overnight bus service from Guwahati to Dimow is available. A convenient mode of travel while commuting from Guwahati to Dimow is by taking a bus. The time taken to complete the bus journey is dependent on traffic, roads and climatic conditions.The bus companies adopt safety measures while running buses from Guwahati and Demow. The smooth availability of bus service creates travel convenience for many people travelling from Guwahati to Dimow.
NomadLawyer has collaborated with the host in promoting volunteer programs/ tourism in this region. In case you are interested in embarking on a journey to Assam and contribute to the host community, do write to us. We will be happy to assist you.

Experience the taste of Rural Tourism 
● Guided village walk/hike
● Swimming in the local river and streams
● Learn traditional technique of fishing
● The art of traditional pottery making
● Traditional method of jaggery making
● Experience the art of blacksmith forging
● Experience ancient and traditional method of farming
● Spend time with local communities to know their rich culture
● Cycling to the hills
About Dimow
Dimow is a Village in Sissiborgaon Tehsil in Dhemaji District of Assam State, India. It is located 37 KM towards East from District head quarters Dhemaji. 7 KM from Sissiborgaon. 409 KM from State capital Dispur. Dimow Pin code is 787059 and postal head office is Silapathar. Silasuti ( 7 KM ) , Silapathar ( 15 KM ) are the nearby Villages to Dimow. Dimow is surrounded by Daring Tehsil towards North, Dibrugarh Tehsil towards South , Gensi Tehsil towards west, Borboruah Tehsil towards South. Dibrugarh, Silapathar, Tinsukia, Duliajan Oil Town are the nearby Cities to Dimow.

ABOUT THE AUTHOR
Imtiaz Ullah is a Corporate Attorney, Travel Writer with The Traveller Trails and also acts as an advisory member of NGO- Sarvahitey. He is the founder of travel website- NomadLawyer.org