Climbing mountains have different meanings for different people, but there definitely is one thing that we would agree – climbing is no laughing matter.
No matter how funny you think it is. And after having climbed it, I have come to the following conclusion. There are two aspects to consider before climbing.
Physical
Mental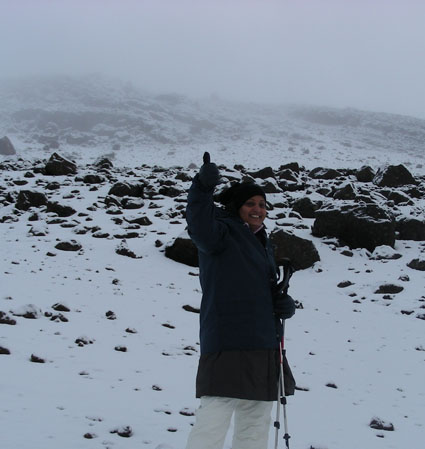 Physical: Three years before I climbed Mt Kilimanjaro, I happened to mention the idea to a friend. He said to me (looking at my urban build) that  "will alone was not enough to carry you uphill." He then led me to a sand dune and asked me to walk up. I couldn't.
I learnt two things that day. That mind alone cannot carry you uphill and that you needed to have a body that agreed with the mind!
Mental: I knew where I stood on the physical side of my desire. But there was the mental side to it that I thought would work in my favour for my mind was made up. But I had questions. Like anyone climbing or thinking of climbing for the first time would have. The following questions popped into my mind right away thus shaking the very notion of climbing Kili. I guess I wasnt really ready for the answers – so I waited longer to finally ensure that my physical and mental aspect was in agreement with each other. These were the stumbling block –
How many days?
What if I get sick?
How do I get fit?
Any specific training
What if I don't summit
Is it safe
The cost
Could I do it alone
Who do I trust
HOW DO I GET FIT.
Three years later I had finally made the decision and eventually executed it. I have answers now.
How many days?
Mt Kilimanjaro (Marangu Route) can be done in 5-6 days (six if you need an extra day for acclimatization). It all really depends on which route you are climbing. For first timers, Marangu (Coca Cola Route) is a good option. 'Furnished' huts along the way. The other routes are Machame, Shira or Lemosho, Rongai and Umbwe. Few of these routes have shorter acclimatization time; hence can be a little difficult.
Altitude sickness is not partial to a particular climber, there is no saying if you will be affected by it or not or when it will strike. You can get sick at 3700m AMSL or not at all even at the summit (5895m). You can take precautions but how your body handles the situation is unpredictable.
Getting fit is an absolute must. You don't just sort of go bounding up the mountain unprepared. Remember at a very high altitude, air is very thin and walking at that altitude is like walking on one lung, so it is a great idea to quit smoking well in advance.
There is no specified training really, but following a routine and particular form of training will be very helpful on the mountains. Example, you are always climbing, it's very different to walking on ground level with a backpack, however heavy or light. Begin training by climbing stairs.
Summiting is not guaranteed. It is subject to conditions beyond your control. Like bad weather, altitude sickness or bad health (uncontrolled case of diarrhea, vomiting, water logging in the brain etc). But you go prepared for all this – and thousands of people have overcome health issues and summitted.
The mountain is safe. You don't fear terrorist or animal attack. The worst that can happen is if you slipped and fell, succumbed to mountain sickness and worse, have to be evacuated for reasons that you really couldn't control.
Going up is optional – coming back down is mandatory
You will try to talk yourself out of going uphill as you get higher and grow tired – but don't give up.
Your guide is your best friend. Trust him.
Have faith – it can get you up mountains!