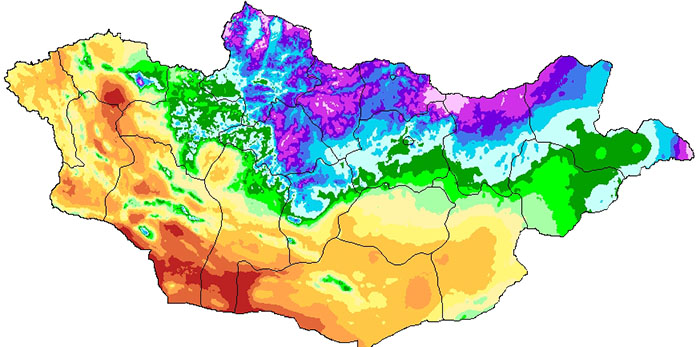 Mongolia is called the country of blue skies – which means, this landlocked country enjoys more than half year of sunshine. But the temperature variations are fast and unpredictable and it is good to come prepared for all temperatures – yes, temperatures have been known to swing between 35 in the day and -10 at night in summers!!!
Remember that Ulan Bator is also the coldest capital city in the world.
CLIMATE
There are 4 distinct seasons:
Winter – November, December & January
Spring – February, March & May
Summer – June, July & August
Autumn – September, October & November
Average summer temperature:   +20C 
Average winter temperature:       -20C

VISA
Any foreign visitor wishing to enter Mongolia must have a valid passport and visa. Mongolian visas are issued by Mongolian Diplomatic Missions abroad or upon arrival at a special request. Mongolian Embassies and Honored Consulate offices in foreign countries issue a visa. Citizens from some countries can obtain visa on arrival.
If there is no Mongolian embassy or consulate in your country, a 30 day tourist visas can be obtained on the spot upon your arrival at the airport or railway station in Ulaanbaatar. You will need an official confirmation letter from Tour Company if you choose to do this.
Passports are required to be valid for at least 6 months after the date of travel.

Mongolia is very well connected to many countries. The national carrier is MIAT (Mongolian Airlines), Air China and Korean Air.
The main international airport "Chinggis Khaan" is located just 18 km from the centre of town in Ulanbaatar. The airport was reconstructed in 1990 and includes modern immigration and customs formalities and baggage facilities.