I write this on the wall. Cevapi IS Serbia gift to the culinary world.
What, you wonder, is cevapi?
Simple answer: Its a "skinless" sausage made of ground meat (or meat mixtures) combined with chopped onions and garlic and paprika.
But first, a little history
Cevapi originated in the Balkans during the Ottoman period and is very similar to kofte kebab. Served with a flatbread, sour cream, ajvar (details below), chopped onions and in some cases shredded cabbage (red), this delicious skinless meat "sausages" have come to stay.
Cevapi is usually served 4-6 pieces per plate, never as one!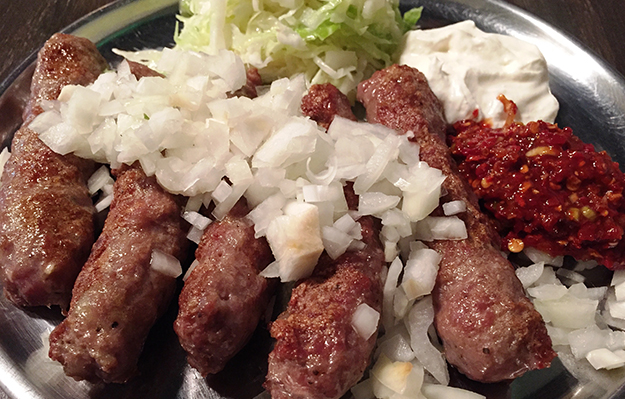 This deliciously juicy meat dish is easy to make as well being a comfort food and is extremely easy to find in the Balkans. During my time in Serbia (and later in Macedonia), I made sure I ate at least one meal a day in the form of cevapi, so much so that I was forced to learn to make it – you know, to cure me of my post-trip cevapi craving.
Ajvar is the perfect accompaniment to this. Ajvar (a relish made of red pepper, garlic and often roasted aubergine). It varies from mild to hot) is made in the mid-autumn months when peppers are in abundance and stored for the winter months in every home.
I brought mine jar of ajvar from Belgrade. But you could check out the exotic or Russian section of your supermarket for ajvar.
Here is my recipe – it works!
Combine equal portions of ground beef and lamb in a bowl.
Add chopped onions and crushed garlic.
Add salt, pepper (if you wish) and baking soda. Mix well. Shape the mixture into sausages (any  length you desire). Set aside (refrigerate) for a while.
Heat a non-stick heavy bottom pan. Grease it lightly. Fry your cevapi – 3-4 minutes each side.
Serve with a relish!