Bonus pic – view from the Bosphorus Cruise.
A visit to the Museum of Innocence – Istanbul is highly recommended – whether you are a fan of Orhan Pamuk or not. The Museum, named after the Nobel Prize winning book of the same name is in the Cukurcuma area (near Taksim) of Istanbul. Could be a little hard to find, there are of course road signs pointing you to the right directions, but you could easily miss it if you aren't watching. Asking the locals doesn't always help – you could miss the pronunciation – and go on a completely different way!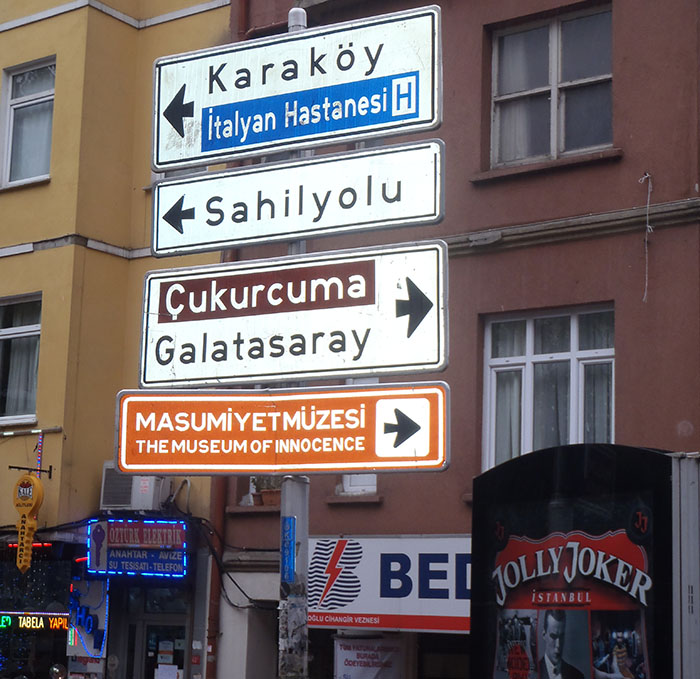 The Museum itself is a building painted red – you cant miss it – the entry is 25 lira and free if you are carrying the book with you. You cannot take pictures of the artifacts on display – but when looking at the sheer collection of everyday things that went into the Nobel Prize winning book, it doesn't really matter – what you come back with is the sheer pleasure something so pure – so real.
There is a great display of Orhan's book to choose from – in English and French. If you buy anything there, remember to get it stamped with the customary "butterfly" stamp. It is a souvenir worth keeping!
When done with the museum, take a chill pill at the Holy Coffee (90 212 243 6869) – a cute, English-style coffee shop few meters away. You don't event fell as though you are in a coffee shop! The young man making your perfect Julius Meinl coffee with his long plaited hair is something else! He doesn't speak a lot – but don't let that bother you. He makes the best coffee.
If you are looking for antiques, this side of Cukurcuma, Beyoglu, visit the 'Antik' shop near the Museum of Innocence (see pic). Ask the owner to show his personal collection of antiques – I managed to find old silver locket, sold silver cups, small ladies dagger, old coffee tins (yeah, even that!). There is plenty of stuff here – time and lots of patience helps!
TIP: If you have a copy of Orhan Pamuk's book, take it with you. Your entry could be absolutely free! Else, if you are buying a book at the museum, remember to get a butterfly sticker. You could use it the next time around for a free entry.