Fujairah is the hidden gem in the UAE. This emirate offers plenty of activities for the daring and the not so – in fact it embraces a whole spectrum of activities ranging from simply walking by the beach, to some serious wadi bashing.
Watersports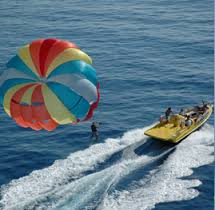 Watersports is a major attraction in Fujairah – be it scuba diving, snorkeling, fjord cruises or sailing windsurfing or kayaking, there is no other place in the UAE that draws water-sports lovers like Fujairah does. If you are not up to extreme watersports, book yourself on a tour of the fjords and sail to the neighbouring Musandam area.
For diving most hotels will ask for your diving license – but if have the time and the inclination and no PADI certification, professional diving instructors can be found at Le Meridien or Royal Beach Hotel where you can obtain an International Diving license for a fee.
Wadi Bashing
Fujairah is well known for its wadis (river beds). Following rains, the wadis are full of water tempting the adrenaline junkies to try their hand at driving upstream in search of wtaerfalls – or simply a nice camping spot by the water to start up a camp fire.  Most popular among the wadis in Fujairah are Wadi Wurayah, Wadi Siji, Wadi Saham and Wadi Mai all within easy driving distance from the city.  Wadi Al Wurayah is a major tourist attraction north of Fujairah which also has a picturesue waterfall.
Mountain Safari
Being mostly mountainous, Fujairah has excellent opportunities to put your 4WD or your mountain bikes to test. Steep rocky mountains plunging into wadi's make the perfect setting to set the mood for some action on wheels. Very popular among the locals and western expats, mountain safari is best experienced in a 4WD or with an experienced tour group, but if you are up to it on your own, there is no end to the excitement that awaits.
Ox fighting (butting)
Ox fighting is one of the most ancient and popular sport, which has been unique to Fujairah –  practiced and handed down the generations as a hobby and in conservation of a heritage. Ox (or bull) fighting practice is a regular Friday afternoon sport in a space specially prepared for practicing this traditional but strange hobby. It is a great source of entertainment in this quaint emirate and thousands of people throng the bull-pits waiting for that ultimate rush of adrenaline.