I arrived in Montreux when it was nearing 11am, on a train from Lausanne, twenty minutes away. The short train ride was spectacular, naturally, given that en route I passed by the UNESCO protected vineyards of Lavaux, although from a fast moving train, photographing it was impossible. The highlight of Montreux would be a visit to Chateau de Chillon.
At the end of the short train ride, I arrived at Montreux, a rather pretty station (you will hear me saying that a lot). The station is built on the upper level while the town of Montreux hugs the lake two levels down. (Take the elevator to the ground floor, exit left to be welcomed into the town).
My hotel, Suisse Majestic was on the second level with the finest views of the lake.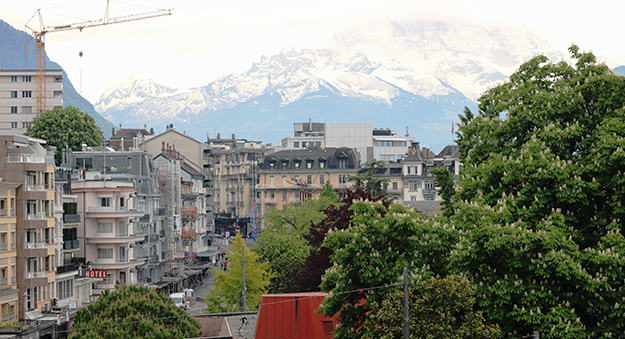 I dined at the hotel restaurant on a meal that was as fresh as the weather outside – pike perch that was said to come from the lake itself and some fine locally made wine – yes, you guessed it! It was the wine from the region of Montreux.
At the end of lunch, a ferry ride was on the cards – to see the famed Chateau de Chillon. I was looking forward to that.
The afternoon was pleasant, despite the occasional cool breeze. I decided against having any coffee indoors, preferring to stay out on the deck and drink in the scenery unfolding around. It was blissful. I could almost feel Lord Byron presence as he made his way on this very route towards the castle.
The castle, of course, has been mired in historical conflicts. It was at this pillar that Francois Bonivard, a patriot, was chained for 6 years. The chains went through that ring.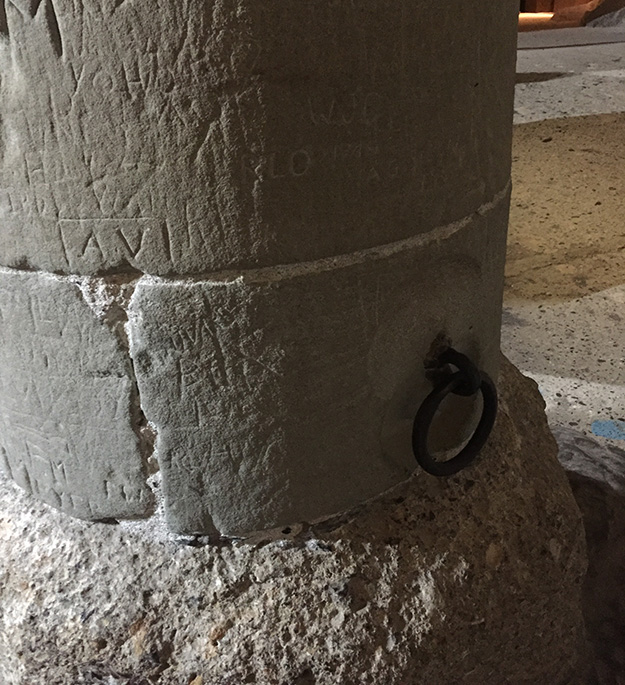 The castle is interconnected by a series of internal and external passageways. The side which faces the lakeshore looks like a fortified castle, while the side facing the lake looks more like a palace.
The first known structure on the island was built by the Bishops of Sion, who controlled most of the region during the early Middle Ages. The first written account of Chillon Castle dates to about 1160, when the region came under the control of the Savoy family. Most of the castle's present features, including the lakeside facade, were commissioned by Peter II of Savoy, beginning about 1235 (source: google).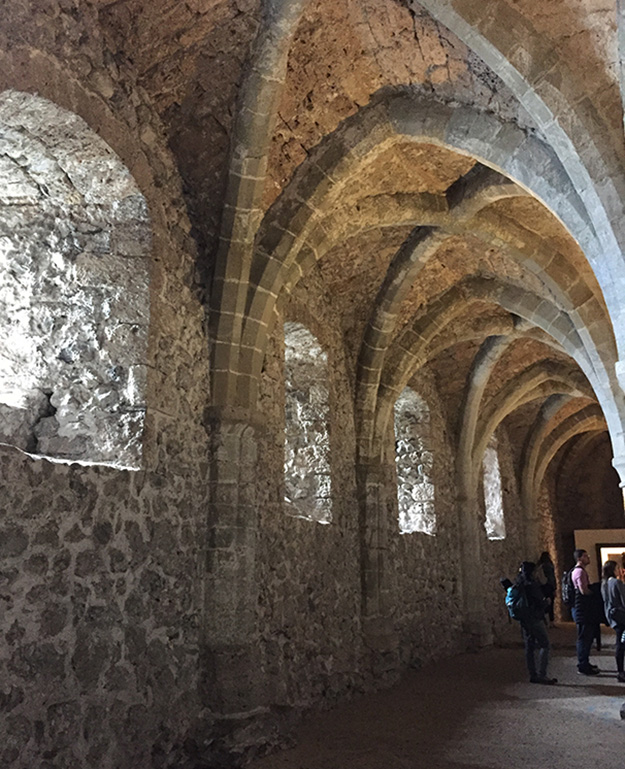 Lord Byron once visited the castle. Upon hearing the story of Francois Bonivard, was so moved that when he returned to Lausanne, he penned the famous – Prisoner of Chillon.
It is said that (although there is nothing to confirm this fact) when he was visiting, he etched his name on the pillar where Bonivard was chained.