I arrived in Bunglumphu quite by chance. Having no reserved stay, I asked a tuk tuk  to find me a place and this is where he brought me. Bunglumphu, he said was the "mecca" of backpackers. I tend to agree with that.
After seeking out a couple who pointed out the right way to the Mecca (Khao San Road), I found Star Dome, with free internet  – for 350 THB very close by. A quick shower later I was out to explore the night in the streets look for something that would drive home the point of being here. It is true what is said of travelers. They are like the 'fly-by-night' shops, come up for a short time, make friends with their immideate environs, exchange few words with others, share a drink in of the many roadside bars, share the stories fo the trails and move on. They don't make friends, they don't attach emotions…they come and they go…some come back again. I did the same. Walked the streets that come alive in the nights.
Strangely not for a moment did I feel threatened or scared. I had heard of Silom and its infamous Patpong area, but even in Banglumphu women of the night shared space with the rest of us and no one seemed to mind very much! Banglumphu was like a little self contained world with money exchanges, cheap hotels, internet cafes, massage parlous, roadside bars and food joints. I hardly saw the 'family' types here. I loved the anonymity, people I struck conversations with readily became 'friends' and pressed cheap drinks from the roadside bars on me.
Either I didn't see any of my kind or they didn't, but whatever it was, I enjoyed the freedom and the security in the unfamiliar streets. Thai food is appealing, no doubt, when treated as a luxury. Perhaps a more affluent visitor opting for the stay-breakfast option at regular hotels would be happy to eat three common Thai meals during their stay in Thailand. But when you have decided, like I did, to eat only Thai food during my entire stay, (and I had only had three such meals), the smell of fried food coming from the stalls and hitting your nose quite strongly, can shaken the strongest resolve. However, not the one to give up easily, I sat down to a meal by the roadside. There are regular hotels but then where was the fun in going to one? All the activity centered around the streets stalls filled with thick fumes of frying meat!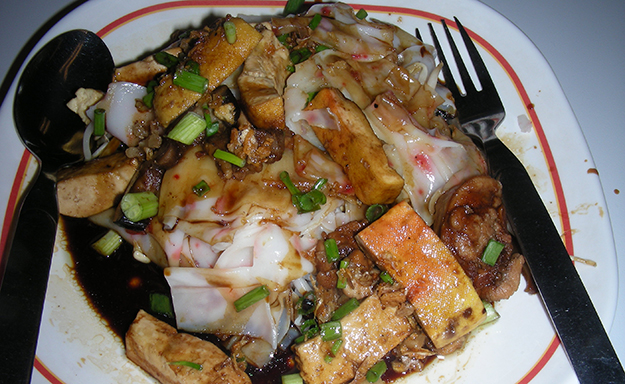 A Thai meal that cost me 20THB was one of the spiciest I had eaten. Served with rice was a curry of fish – I have no idea what fish that was, because all I tasted was the spice and basil. The night at Star Dome was more like a bus stop. Sleep hardly came. Bands played through the night. It was a cheerful place for cheerful people savouring every minute of their short life, making merry…I cursed, however…I needed rest. I think I managed four hours before I woke up and realised I needed to hurry to the train station on the other side of the river.
When I left the key at the counter, the sky was just getting light. The early morning streets had the same cheer in them, although a bit empty, but there was determination to return to its happy self in a few hours! I made it on time. I was back at Tha Phra Chand…and going someplace at last 🙂
Banglumphu
The Banglamphu district is east of Ko Rattanakosin though it is not well defined where it actually starts and finishes. Some sights around here are Wat Saket and Wat Suthat (Wat meaning temple).
About 10 minutes walk north of Sanam Luang (in Ko Rattanakosin), is Khao San road. This is the traveler's paradise with a number of budget accommodations.
From the airport, you could take the airport bus to Sanam Luang and a tuk tuk to Khao San Street.