At 1900 m, Jebel Jais is definitely the UAE's tallest mountain and is every bit as exciting as a tall mountain should be. Rugged, at times wind -swept, valleys with sweeping views…and absolute isolation. 
While it is not necessary to have a 4WD, (we went in a BMW M3), it helps if you have one – else you might worry a little when driving with your nose pointed at the sky over dirt roads leading to the summit of this barren and rugged mountain in the emirate of Ras Al Khaimah, fondly shortened to RAK.
As soon as you reach closer to the summit, the black-top road ends. From here on and upwards, it's a narrow dirt track hugging the rocky edges, and unless you have a good, sound car and experience driving on roads like this, do not attempt it.  Instead, park your car here and walk up hill.
A sharp climb brings you to the summit and its worth every bit of effort. (Last heard, this dirt road was closed due to some construction work)
For bikers and car enthusiasts the mountains of Jebel Jais is a wonderful place to test their driving skills – what with the roads snaking around tight hairpin bends that affords great opportunities for adventure.
BMWs are great but our M3 did strain a little going up that dirt road to the summit, not surprising because the M3s are built for high speed and not mountains! A normal car with a slightly better ground clearance will do just as well though. It is not uncommon to see saloon cars straining up the hill on weekends, so you now know Jebel Jais is not out of bounds if you don't own a 4×4.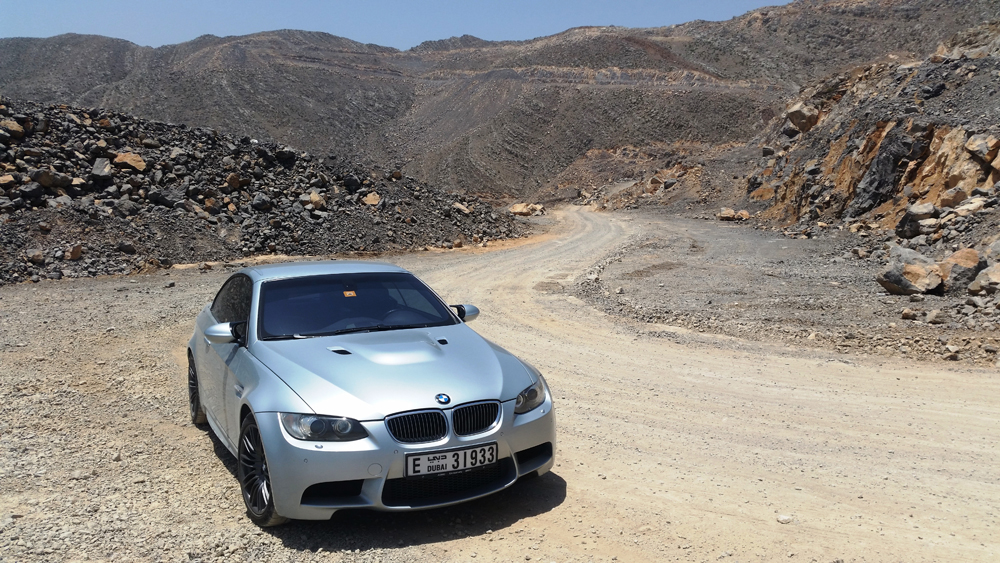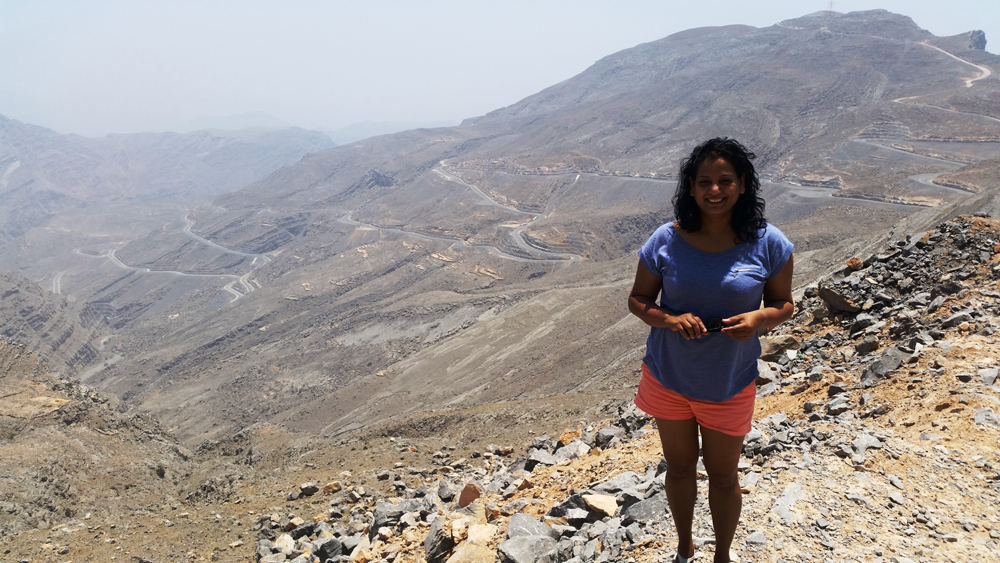 That's me – this is also the point where the black-top road ends. The roads are fairly new, so (when I went), there was still some grit on the roads. Bad season might see rock fall on the road, so caution is necessary.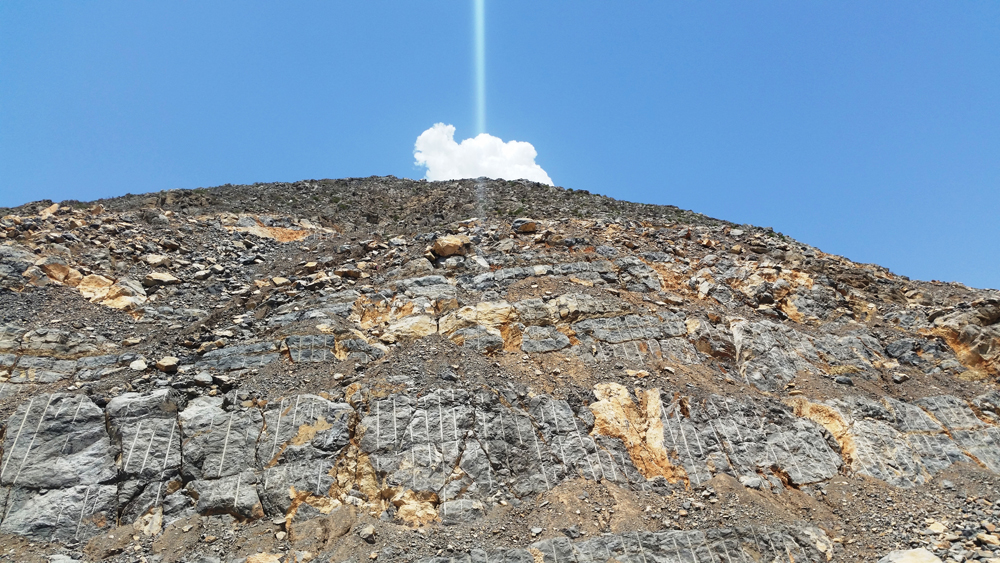 We went, bang in the middle of summer, but as if to prove us wrong, a huge, white chunk of cloud appeared over the mountain – for no apparent reason!
Best for:  A day out with the family. If you are with children, take care not to get too close to the edge, the loose stones might not be entirely safe to play on.
Need to know: There are no restaurants, toilets, gas stations for miles. Nothing at all when you reach the top or along the way. So, best tank up in Ras Al Khaimah, carry enough water, food. Toilet breaks would obviously be limited to "going to the bush, or in this case, a rock," so prepare yourself accordingly.
However, if you wish to take a leisurely break, book yourself a suite at Hilton Ras Al Khaimah Resort & Spa. This hotel about 50kms away from Jebel Jais Mountain Top, and dotted with world-class amenities like spa, child care facilities, recreational facilities and fitness facilities.
How to get there: It is about 30 kms away from RAK (Ras Al Khaimah). Go past the Lantern R/A (near Saqar and RAK Hospital). Keep driving till you are close to the mountains. The roads are not clearly marked and you will definitely go over stretches of dirt roads in parts. But generally when driving to Jebel Jais, make sure the mountains are on your left till you reach the newly constructed roads that lead up to the mountains.
If your car is GPS enabled, use it. Or try Google maps if you get lost. It is hard to lose the way, but be prepared. There is mobile coverage on the mountain top, but along the way as you pass through the mountains, you might lose connectivity.