A city of beauty, Lausanne holds a pride of place for more reasons than one. It is the fourth biggest city in the country, has the first metro line and is the Olympic capital of the world.
That said, it has many little secrets too – like Escaliers du Marché, a series of covered wooden stairs leading up to the Gothic Cathedral from Place de la Palud (or Old Town). What is interesting is that these steps are over 400 years old. It is very well preserved too, no dangerous or ugly cracks in the wood! It is impossible to think that something as simple as a flight of wooden stairs would attract so many visitors…but it does!
The Escaliers du Marché is the most direct way to get to the Rue Pierre-Viret (right below the cathedral), although rather steep and offers great views of Lausanne from its many vantage points.
Google says: The upper part of the stairway was interrupted in 1911 with the construction of Rue Pierre-Viret, the continuation of the Pont Bessières bridge, but it was then artificially restored with the addition of an underground walkway in 1975. Until the 14th century, the city market was held on a square built to the right of the staircase, hence the name. Traces of it can still be seen in the shade of the trees at the bottom of Rue Pierre-Viret.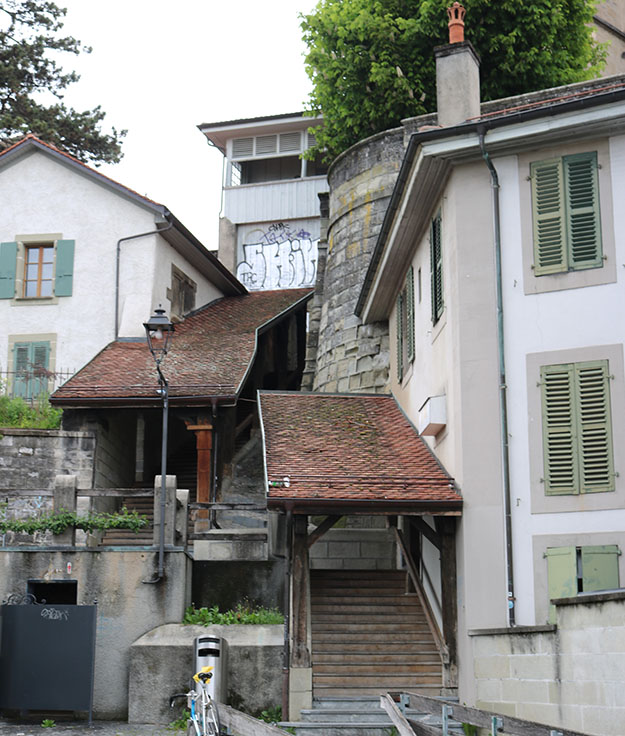 See how these few old buildings hug the stairs! I absolutely loved walking up and down, more so because the stairs made such a dull sound (unlike on the last four concrete steps you see in the pic) it was like walking back in time.
The houses alongside the stairs are very pretty to look at too – you can easily find a chocolatier, a store of arms (on every picture Lausanne taken from the cathedral, you cant miss the ARMES written on top of a building), boutiques.
Once you are at the top, (at the cathedral) the Cathedral bell tower provides a dramatic climax to the ascent. I had some fantastic pictures taken from the top spot!