It is true what is said of Taj Mahal – that you cannot takes your eyes off it, your jaws loosen and your mind throws up a thousand different questions – WHY. WHEN. WHAT. HOW…
No matter how many stories you have heard about Taj Mahal or many pictures you have seen of it – at sundown or moonlit nights, the moment you see it for yourself, you are transported into a different world – of beauty, of passion, of obsession, of fanaticism, of sheer madness … but it all ties into this magnificent monument that has stood the test of time and has become the symbol of love.
Taj Mahal, you soon forget, is actually a magnificent tomb (built by Emperor Shah Jahan for his wife Mumtaz) but somehow you come to associate with a symbol of beauty and love – not death.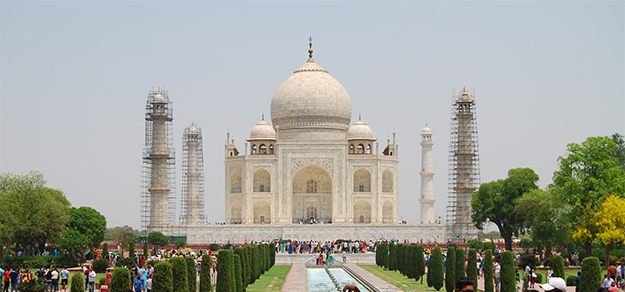 If you are traveling to Agra from Delhi, use the new Yamuna Expressway, which cuts down your travel time considerably. Alternatively board the Gatimaan Express, a new relatively new and fast train, to Agra.
I have no bones to pick about Taj Mahal. The drive from New Delhi was uneventful and smooth – the Yamuna Expressway is a fantastic corridor with plenty of rest-stations along the way – but I did notice, on my recent trip, that Agra itself, the home of Taj Mahal needed a facelift and better upkeep.
AGRA
Agreed – India is hugely populated and it is only reasonable to expect a certain number of the population to be in Agra. But come to think of it, TAJ MAHAL is a WONDER, thousands and thousands of people visit daily – so it stands to reason that these visitors must be given a certain level comfort to begin with?
Starting with the surroundings of Taj Mahal, everything needs a major facelift – a visitor is first greeted with garbage strewn about right outside the main entrance to Taj Mahal. Pavements are broken and uneven, parking space is limited or unavailable. Animals, including donkeys and dogs run amok and while not entirely dangerous, cause chaos. There is no designated parking spot, guides (often self-proclaimed) are everywhere luring innocent visitors with half-baked information.
There are no signboards telling people which way to go for tickets or toilets. What is worse is that, NO TICKETS ARE ISSUED TO PEOPLE WITHOUT IDENTITY CARDS – which is fine, except visitors do not know that they are supposed to carry these id cards – this goes for Indian and non-Indians. Id cards are a MUST.
I saw people standing in queues who were denied a ticket because they did not have an id – except it is NOT their fault if they did not know – there are people in India who are not connected to the internet from where they can get that information, right?
Yes, it is NOT a pleasant feeling to be standing in the sun for hours and finally to be denied a ticket (at least 2 out of 10 are turned away). Pushing your way through a sea of people, sidestepping loose stones on the stones and gaping holes on the pavements, avoiding stepping into animal dung add to the stress of visiting a monumental wonder that is Taj Mahal.
THE TICKET QUEUE
It is understandable why the queues are long here. But what I cannot understand is why there is no system to keep that queue in place? Or why do thousands of people have to stand in the blistering sun for a ticket when the government can easily have a covered area – some consideration in this regard will be welcome. I saw people sweating uncontrollably in the heat and a woman passed out of exhaustion – and there was nowhere to sit down either.
I hope, sooner than later, something is done about this. Taj Mahal as a monument alone cannot hold the visitors attention.
Ticket: INR 40 (Indians), INR 530 (SAARC Countries) & INR 1000 (Foreign tourists). Audio guides are available. Children below 15 (as per the website) enter free.
FOOD
Because in India, you can never be far from a food joint – there are hundreds of hotels in the vicinity. I had the good fortune of arriving at Pinch of Spice which mercifully had a good selection of food. The restaurant itself was clean and air conditioned. For the uninspired, there is always the McDonalds.
If you have time, visit one of the many marble-stores or leather stores. You can easily find a good bargain and some fine leather items such as jackets and boots or bags. Remember to bargain. Be careful about buying "marble" Taj Mahal miniatures – marble carvings are hard and hence the products are expensive – so be wary of people selling it for "very good price."
AGRA PETHA
A very local sweet dish (be warned – it is extremely sweet) is well known and very popular among visitors. This is made of ash gourd and lots of sugar and is believed to have originated in the Mughal kitchens. Currently, this candied ash gourd comes in many inspired forms.