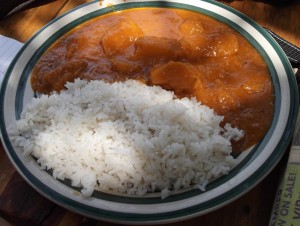 I have heard people say: Urrrgh, just what do I eat in Uganda? Is there anything at all? I mean, just what do people eat? Are there any vegetarian options? or is it all "game meat"?
That really is an unfair question. Agreed, Ugandan cuisine is not as varied as Indian or Mexican and Thai cuisine, but heck, they have been eating something all these years now havent they? Agreed, the food is starch-rich (yet they do not have to worry about adding calories, its all the exercise they get of walking up and downhill in harsh conditions!!) and rather shy of fiery spices, but you cannot write their food off the "must try" list.
I particularly found these interesting.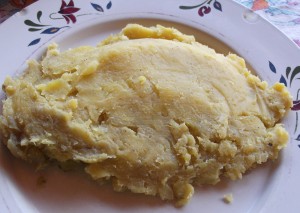 Matoke: Boiled and mashed green banana (call it the national dish), eaten at all times of the day. Healthy but if you are not used to eating raw bananas in such large quantities, you could end up with some tummy disorder. Or, make sure you walk or run – just to work it all off.
Posho: Corn meal (called Ugali inTanzania and Kenya), eaten alone or accompanied with chicken stew or beans. It's also the  'comfort' food of all East African countries – wholesome, quite bland in taste but keeps you going for a long time!
Luwombo: Fish, chicken or beef cooked with G-nut (peanut) sauce in plantain leaves. Quite a delicacy in these parts – but quite difficult to keep it down especially if you don't like the strong smell of salted (dried) fish in the gravy.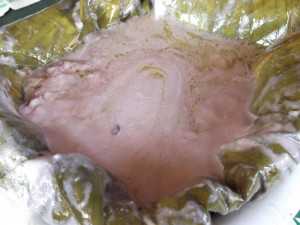 Chipathi: Chapathi to the rest of the world, its the 'gift' of the Indians living there. Served in many forms – torn into shreds, wrapped around an omelette (called Rolex in Uganda), or minced meat with veggies. Quite popular in the town areas – hard to find in the interiors.

Pumpkin, cassava, sweet potato, chips are the standard cuisine. In fact, when I ordered a meal at a street side restaurant, what I got what this. (See pic).
A portion of rice, a piece of boiled pumpkin, cassava, sweet potato and tiny brinjal (rather bitter). Pumpkin is not my favourite veggie for sure (and definitely not the boiled one), but combined with the bitter flavour of the brinjal, it tasted alright. That's your veggie option for you.
Tomatoes are eaten in plenty and also greens. But beyond that, you will have to stick to beans. Chipathi with beans, rice with beans, posho and matooke with beans…
If you feel particularly adventurous, try the "chips and chaps."
It is ground meat (no one tells you what meat and which part of the animal it comes from – but I can make an intelligent guess), mixed with flour and eggs and fried.
Okay, let me admit. I couldn't eat all of it.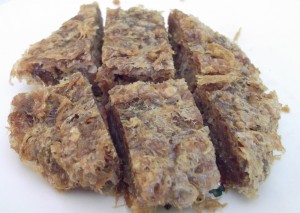 Warning: go for a good long walk after every meal. the food is starch-heavy and sedentary lifestyle, even for a short duration adds to the 'holiday weight.'