Of all the "off-the-beaten-tracks" you can find in Georgia, Uplistsikhe takes the cake. Literally translating into 'Fortress of the Lord', this an ancient rock-hewn town is a sheer delight to visit – even if you aren't a history buff.
A few miles from the town of Gori, (Stalin's birthplace), Uplistsikhe is easily accessible and offers a glimpse into a time nearly 3000 years ago! When said like that, it does seem rather, interesting, right?
Built on the rocky bank of Mtkvari River, between the 6th century BC and 11th century AD, Uplistsikhe was a very important centre of politics and religion until plundered by the Mongols in 13th century.
Built on 3 levels, the middle being the largest area containing most of the structures inter connected by series of alleys and tunnels. One of the tunnels ends at the river and served as an escape route in case of invasion.
Walk around and you can see remains of an apothecary, bakery, prison, cellars and the hall of Queen Tamar and sacrificial altars. The rock walls are however quite plain with few carved ceilings.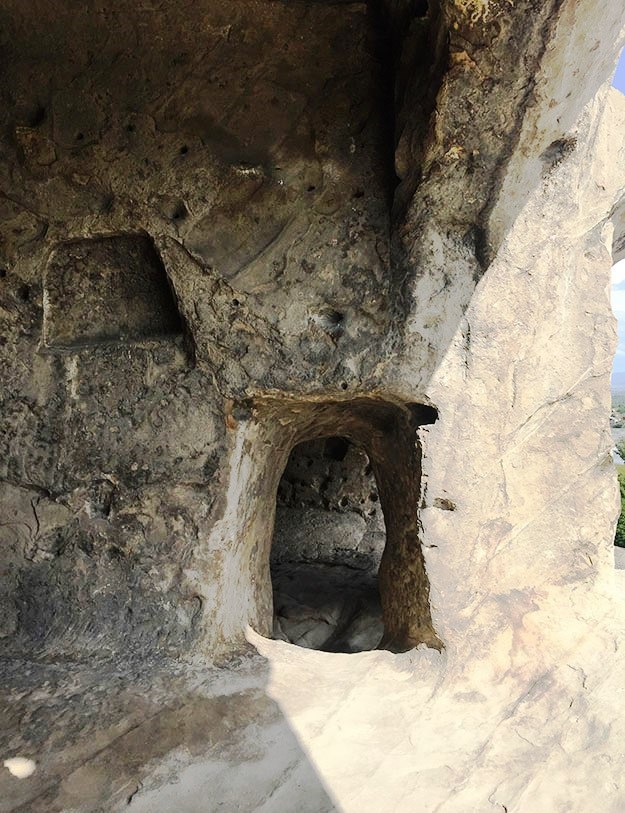 Our guide explained how it used to be a very modern settlement even in those times, although before the dawn of Christianity, people worshiped various nature's elements including Sun Goddess – the traces of which were found during excavations. She, however told us stories of 'sacrifices' (of animals) and the prison and how a deadly earthquake had destroyed few very important structures and explained how, what we saw today was just a quarter of what it was before the natural disaster.
The view from top is a reason alone to visit this secret gem – the church is however renovated and doesn't look that old (was believed to be built isn 13th century)
Even if you happen to be in Tibilisi for a short stay, this exploration is easily done as a day trip.  Uplistsikhe is well connected to Gori and thereon to this cave city on marshrutkas (local mini van) which operate very often between Georgian cities. The easiest way to get to a marshrutka is from Tibilisi is from the Didube metro station.
Getting there
From Tbilisi: Marshrutkas from Didube cost about 4 lari (2 EUR or 2.50 USD) and takes about 90 minutes to Gori. From Gori, a taxi can take you and back (including waiting charges) for about 15 USD.
Buses operate (infrequently) from Gori for 1 Lari and drops you off about one kilometer away from the entrace to the cave town.
Entry fee: 3 Lari
English speaking guide: 25 Lari.
Currently on the list inclusion into the UNESCO World Heritage program, Uplistsihke is definitely a place to visit – even if you cannot compare it in scale to the more popular cave town of Derinkuyu in Cappadocia, Turkey.
Much of the artifacts unearthed at different stages of archaeological excavations are currently housed at the National Museum in Tbilisi.