Pristine white beaches, mangrove forests, island clusters, museums, water parks, flying clubs and several historical remains add a special charm to this 'out of the world, one-horse town' emirate, checkered with low, stone and mud buildings – that is Umm Al Quwain for you!
Despite its diminutive size, UAQ has a lot to offer the visitor. Here you could spend a day lazing on the beaches or set the adrenaline flowing by jumping off a plane – or spend long weekends sailing, water skiing, wind surfing, kayaking or camel racing. Or, you could simply drive through some spectacular desert-scape towards Falaj Al Mualla about 50 km away, to enjoy its natural beauty or bash big red dunes in a sturdy 4WD, camp in the wadis (river) or cheer the camels racing along the race tracks.
You might even come across camel caravans – just take your pictures and be on your way. Camels are very special animals in the UAE so avoid getting too close or harming them. Umm Al Quwain offers a mixed bag of relaxation, insane fun and a dash of daring sports. UAQ offers the best and most interesting sailing experience in the northern emirates.
Umm Al Quwain's main attraction lies in its long, clean beaches, lush mangroves, lagoon and rolling sand dunes. Al Sinniyah Island is a haven for bird watchers while nature lovers' troop to this island to enjoy the wide variety of animal species found here including the deer, green turtles and dugong (sea cow). Large number of visitors flocks to Umm al-Quwain to enjoy the beauty and magical charm of one of this exotic emirate. Here is a list of Umm Al Quwain tourist attractions below.
ATTRACTIONS NOT TO MISS
Al-Dour
Considered to be the largest pre-Islamic site on the Arabian Gulf, this is located along the coast of UAQ. Al-Dour was an important trading port from about 200 BC to 200 AD. Thousands of graves are found among the houses of Al-Dour. In some cases the larger tombs contained the remains of more than one individual, perhaps a family. There are two public monuments at Al-Dour, a small square fort with round corner towers and a small square temple dedicated to the Semitic sun god Shamash. Several interesting objects including impressive tombs, stone houses, large storage jars, and glassware from Egypt and Syria have been unearthed quite recently.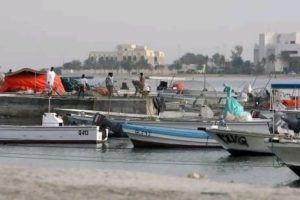 Old Harbour
Old Harbour is the best place to watch skilled craftsmen assembling traditional boats. This site is located in the old town overlooking the traditional dhow building and is surrounded by coral stone houses that display features of the original architecture and intricate sculptured plaster work.
Aquarium
A part of the Marine Research Centre this site is open to public only on prior appointment. Located near the new port of UAQ, this aquarium houses a wide variety of fish and sea life found in the region, including snakes and corals and rays.
UAQ Islands
The natural green islands provide shelter against the rough open sea and support a wide variety of life forms, also making it idea for water sports and lagoon-sailing. Separated by a series of creeks, these islands are surrounded by thick mangrove forests. The main islands being Al Sinniyah Al Keabe and Jazirat Al Ghallah which are visible from the shore, while the smaller islands of Al Qaram, Al Sow, Al Harmala and Al Chewria have the Madaar creek running between them offering easy navigation for fisherman even at low tide.
UAQ Museum
The history of Umm Al Quwain Museum goes back to 1768 when it was first established as the residence for the Emiri family. Hundreds of years later it was made a museum.  The museum is actually a renovated ancient fort that was used to guard entrance to the old town and houses various artifacts found at the archaeological sites.  Phone: +971 6 765 0888
Opening hours: 5-8pm Fri & Sat, 8am-2pm & 5-8pm Sat-Thu.
Umm Al Qu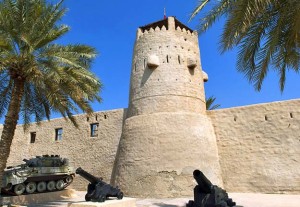 wain Fort
The UAQ Fort has an impressive display of jewelry and weapons found at the Al Dur archaeological site. Most interesting of all, however, is the extraordinary story pinned to a wall of one of the towers relating to the story of the murder of Ruler Ahmed Bin Ibrahim Al Mualla, by his cousin-servant in 1929 and how the enraged people burnt the murderer alive inside the tower.  A great place to visit for an insight into the history of the emirate. The Fort is located near the Mosque in Umm Al Quwain Bazaar.

FALAJ AL MUALLA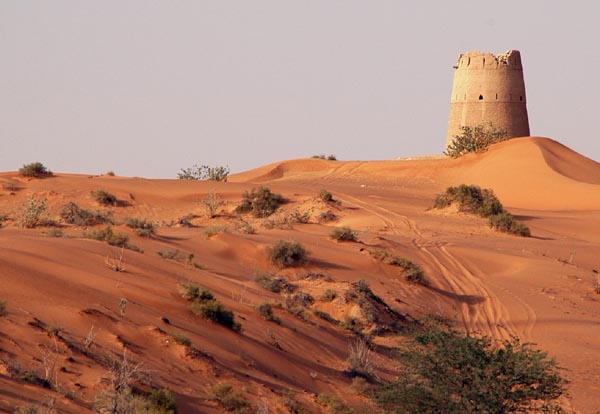 You could easily spend a day or two at Falaj Al Mualla and leave wanting more. If you are not particularly interested in extreme sports such as dune bashing or dune buggy rides, simply walk around the town with its wide, clean streets, low villas nestling at the foothills of big red sand dunes or spend the day at the park swimming and relaxing under the lush green trees.
The people of this area are very friendly and polite and will go out of their way to make you feel welcome if you happened to run into them in the small town or wander into the farms. As a matter of fact, a farm visit is highly recommended – you are likely to learn more about the local way of life and farming (and be lucky enough to return with a basketful of fresh veggies and farm eggs). Do not refuse their hospitality. The local people love to share –be it coffee, agricultural produce or stories of Aladdin-style genies appearing out of old wells, but you will leave more knowledgeable than before.
Falaj Al Mu'alla Garden Park
A great place for family outing, this park offers facilities such as swimming pools for adults and kids, apart from kid's playground, barbeque areas, mini grocery, bikes rental, and tricycle ride. Please note that sheesha is not allowed inside the park grounds and it is not advisable to play very loud music inside.
Camel Racing
The special attraction of Falaj Al Mualla is camel racing in Lubsah. The tracks are set in the lee of large sand dunes and come alive with thousands of enthusiasts cheering on the camels as they make their way down the track towards the finish line. This perhaps could be one of the rare opportunities to see a unique sport that is integral part of the country's heritage.
Old Fort
About one kilometer away from the Falaj Al Mualla R/A, turn right at the big mosque and drive a few meters to reach an old fort which is flanked by two cannons at its entrance gate. The Fort is however, currently under renovation, but is a great place to visit for those seeking to learn about the region's history. It is common to see old towers placed at strategic points around the town. In older days, these served as watch towers.
Offroading
Adrenaline junkies will swear by the excitement of driving over the giant read sand dunes in this area. The dunes, interspersed with wooded basins are not only challenging but also a major draw for over-night campers.  Alternatively you could go on a package tour (Bedouin Safari Camp 050 4814700) to experience the Bedouin life. Many safari companies offer added package that include horse and camel rides in the desert.
ACTIVITIES
UAQ is fast becoming a center for adventure tourism. Be it skydiving or water skiing, motor-racing or sailing, there are plenty of hair-raising activities for the visitors – adults and kids alike. If you are looking for a rush of adrenaline on a weekend, then head out to UAQ and engage yourself in the multitude of activities that it offers.

UAQ Marine Club
Not far from the UAQ central market, a few hundred meters from the Al Khour R/A (locally called Fish R/A), is UAQ's favourite spot for water-based activities. Facing the lagoon, this Club provides facilities for wind surfing, water skiing and sailing. Visitors can pitch their tents on the Club grounds and barbeque all night.
Emirates Motorplex
The smell of burnt rubber and screeching tires reach you even before you have stepped into the arena. The latest entry into the sporting scene of UAQ, the motorplex offers safe environment for adrenaline junkies. This club has five tracks for quad bikes, drag cars, motocross and endurance races, and a 120m by 120m skid pan. It is the best place to experience life on full throttle.
UAQ Aero Club
Set up under the patronage of Sheikh Mohammed Bin Rashid Al Mu'alla, this club is renowned for its skydiving and parachute championships. Visitors can jump off a plane here – literally. Hot air ballooning, parachuting and skydiving (both single and tandem) can be undertaken right through the year. UAQ Aeroclub is the latest addition to the Aviation Fields in the region.
Sky diving is very popular among adrenaline junkies and the excellent weather conditions in the emirate make it possible to undertake this activity all year through. If you are not a 'jumper" and still want to try your hand at jumping from 12,000 feet, trained instructors are ready at hand to guide you through. Alternatively you could opt for a tandem jump, from special modified aircrafts built for the purpose.
UAQ Shooting Club
The UAQ is definitely the best of its kind in corporate entertainment. It is also the place you go to indulge in your inner passion. Shoot your way through with a single or double barreled shotgun. The shooting range is spread over a large area, alongside the Dreamland Aqua Park and UAQ Aeroclub and offers safe, luxurious and supervised environment.
Water-skiing
Ideal for all kinds of water sports such as water-skiing, kayaking, wind-surfing and jet-skiing Umm Al Quwain promises the adventurous visitor an exciting time with its clear and calm waters. The deserted islands and the mangrove swamps are just what an intrepid explorer seeks.
Wildlife and Bird watching
UAQs amazing diversity gives it unique distinction of being the most sought after place for nature lovers. Flamingos, turtles, crabs, coral or placid lagoons, UAQ has it all. Khor Al Beidah in particular is a paradise for bird watchers.