Are you UAE's Unluckiest Traveller? Here is your chance to WIN AED30,000
RSA Insurance is giving away a dream trip AED 30,000 for your troubles. RSA, a leading provider of insurance services in the region, launched the country's first-ever competition to find the UAE's unluckiest traveller. The four-week long campaign will give people across the UAE a chance to enter a contest to share their unluckiest travel stories and transform these experiences into an opportunity to win their dream vacation worth AED 30,000.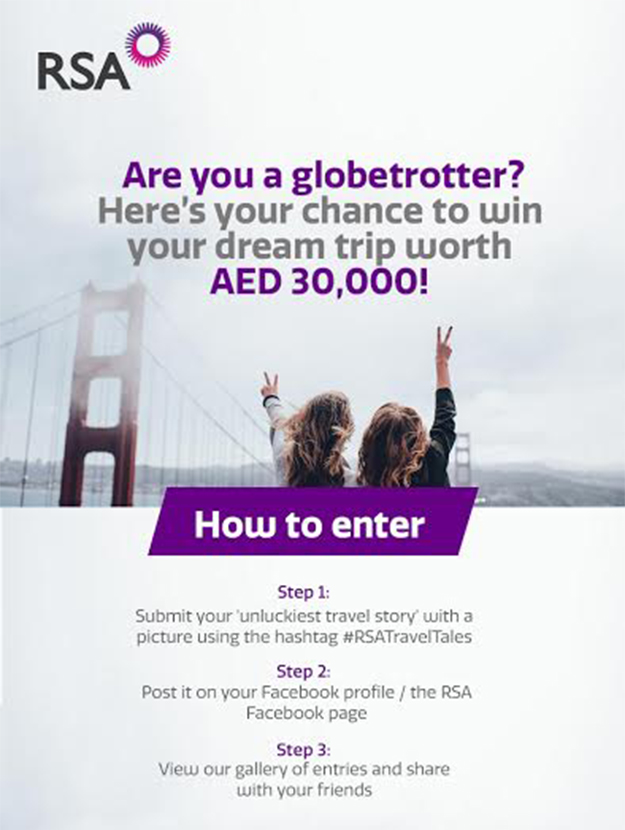 To enter the competition, all individuals have to do is to share their story of a time when they did not have travel insurance but needed it; mentioning what they had planned, their "unlucky" circumstances, and how they pulled through in the end. Each participant can enter the competition by submitting their stories via RSA Insurance UAE's Facebook page or by using the official hashtag #RSATravelTales on their Facebook public profiles. The competition will run for a month from July 10 to August 10, at the end of which, RSA will select the winner who will receive the grand prize of AED 30,000 to spend on their dream trip.
To learn more about the campaign and participate in it, visit RSA Insurance UAE's Facebook page: CLICK HERE
Source: Official Press Release