When walking through the Old Town in Prague (Czech Republic or erstwhile Czechoslovakia) on a rather chilly evening, I came across many vendors making a cylindrical pastry over coal-fire, serving this exotic looking stuff straight off the rollers they were on. I joined the line, more out of curiosity than urge to devour those cylinders.
Somewhere between hearing requests of "cinnamon" "sugar" and "chocolate", I stepped out of line and walked away. Curious I might be, but sugar overload in the late evenings, I didn't fancy.
However, the next day, I found more evidence of this pastry's reputation. Not only were these sinful pastries sold at street-stalls at night, but they did a roaring business during the day as well. I peered into the store where a pretty young girl manned the rollers.
I said hello, whipped out my camera and after getting her to pose for me, asked her to explain this stuff. She, in her beautiful lilt told me it was trdelnik. I had to ask her thrice and repeat it several more before I got it right. Okay, I cannot say it correctly even today, but hey – this post is not about my inability to pronounce Czech pastries!
These rolled pastries aka trdelnik, she explained were best eaten hot with either a dusting of cinnamon, sugar or nuts. However the word "chocolate" was on my mind, so I decided to try one of that! It was sweet alright, and a little flaky but I could see why people thronged to the stalls for these delicious snack. It was enough to warm your fingers and satisfy your sweet tooth!
Trdelnik pastries are also found in Bratislava and other Slovakian cities. I swear I missed this one in Bratislava and wonder why and how!
A little more about this delicious pastry-snack
Trdelnik is made made by wrapping dough around a stick (wooden or metal) and roasting it over an open flame until it is golden brown and fully cooked. It is said that this pastry comes from Slovakia – although it has undergone a few modifications when making its way to Czech Republic or other European countries like Lithuania or Romania.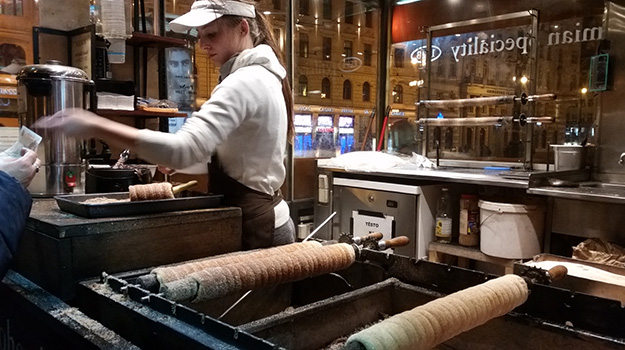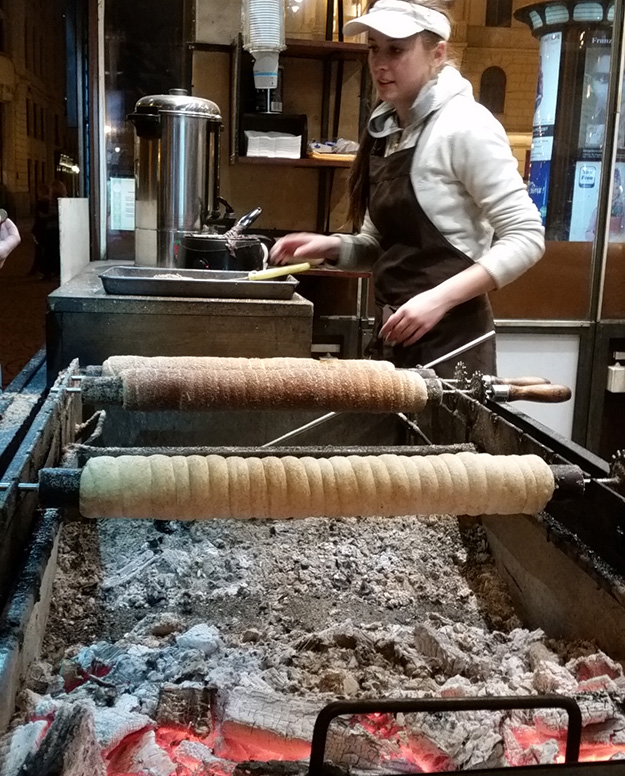 I am sold on the idea of trying out local pastries in every country I go – although as a matter of habit I avoid anything sweet. Trdelnik could well be an exception for sure.