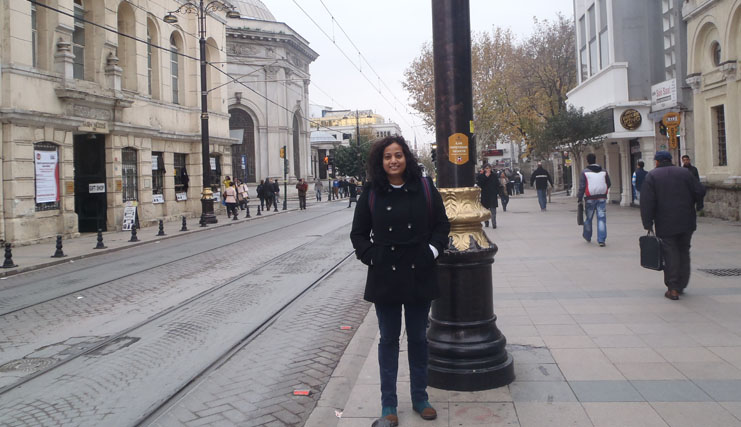 Sooner or later, everyone visits Turkey and  everyone who visits Turkey then speaks of the following – trams, the bazaars, the fish sandwich by the Bosphorous and the Bosphorous Cruise. Followed by the Topkapi Palace, Blue Mosque, Museums –
Followed by shopping in Taksim, night-outs in Taksim and being "silly" in Taksim.
I know because I did exactly that. I am not particularly proud to say that I did not visit the Topkapi Palace and museums but I made up for it by being very loyal to the tram. I rode the tram every time I stepped out. I love the tram in Istanbul.
The reason I bring this up, almost a year after my visit is that I happened to find my pictures and nostalgia washed over me. So I sat down to some thought – and guess what I realized? (I suppose I could have simply googled it too) – that the Istanbul Tram has been the backdrop of some of the finest pictures I have seen – in all seasons!
Snowed in, it looks hauntingly white and eerie, on a clear winter day it is in sharp contrast to the building rising sharply along its sides – and what else! In summer it makes for a picture of cool efficiency – any way you look at it the tram is the hero in Istanbul.
And what's more – it even has dual nature – on the Asian side, it is like "heritage" tram and on the European it is very modern and correct. Surprisingly, it is also the oldest tram systems in Europe, having started off as a horse-tram before being upgraded in phases to what it is today.
I suppose, that break in Istanbul is different from every other place is because of the tram. I rode it to Eminönü, to Aksaray, to Hasanpasa to Kadikoy to practically every where – even if I could have easily walked. There is something about the swaying harmless and efficient contraption that adds a certain thrill to an otherwise cold and rainy evening in Istanbul.
I'd say, forget everything and get on a tram – get off where ever and get back on – its also cheap and faster then a cab and is a whole lot of fun!
Click here for tram-related info