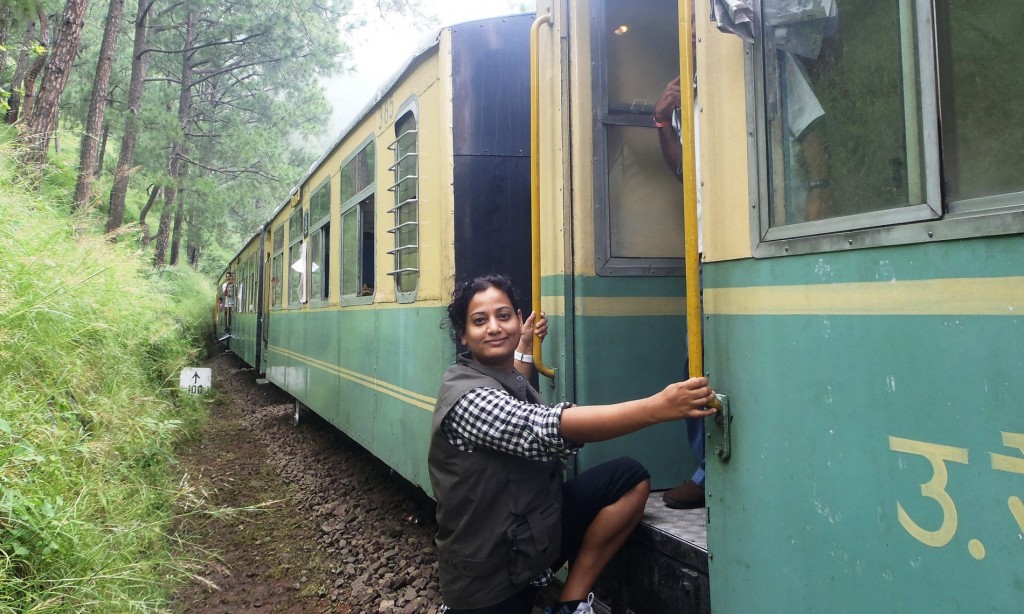 Try this – its fun! A journey on Shimla's Toy Train is nothing short of magical.
Ever traveled on Indian trains? I have. And I have loved every moment of it – be it on the AC coach, the blue -seated reservation coach or the last-minute and often without tickets in the general compartments rubbing body parts with thousands of unnamed strangers. But more than everything, the thing I love most about the Indian trains is the variety of food that you get to eat. In fact, my first (and solo) long backpacking trip that started in India was on one such train (read about it in my book Almost Intrepid).
But that is not what I am going to write here. One particular trip I made recently, to Shimla, on the Toy Train from Kalka is what I am going to write about. As the name suggests, it was a really tiny train with cramped seats, even smaller toilets and slow. But all through the 90 odd kilometers to Shimla, one thing kept me amused! The food.
Indians never leave home without a food box. In it they stuff food enough to feed a compartment (on the Ty Train it is easy) and insist on feeding you their share of calories. And if that is not enough, the numerous stations along the way have hawkers whose primary task is to tempt you with numerous oily-soaking snacks and charge you for it. On this particular trip, I must have stuffed myself with so many things that I thought had stopped doing the rounds years ago – but clearly the train-traveler's desire (over fondness) had ensure its safe and thriving existence.
Chatpate chane (roasted gram) tossed with onions, chili, chaat masals powder and rounded off with lemon juice is definitely the winner. As you pass through some spectacular scenery, you keep tossing the spiced gram into your open mouth munch on it as the trains takes a leisurely ride through mountainside, not really thinking about your intestines!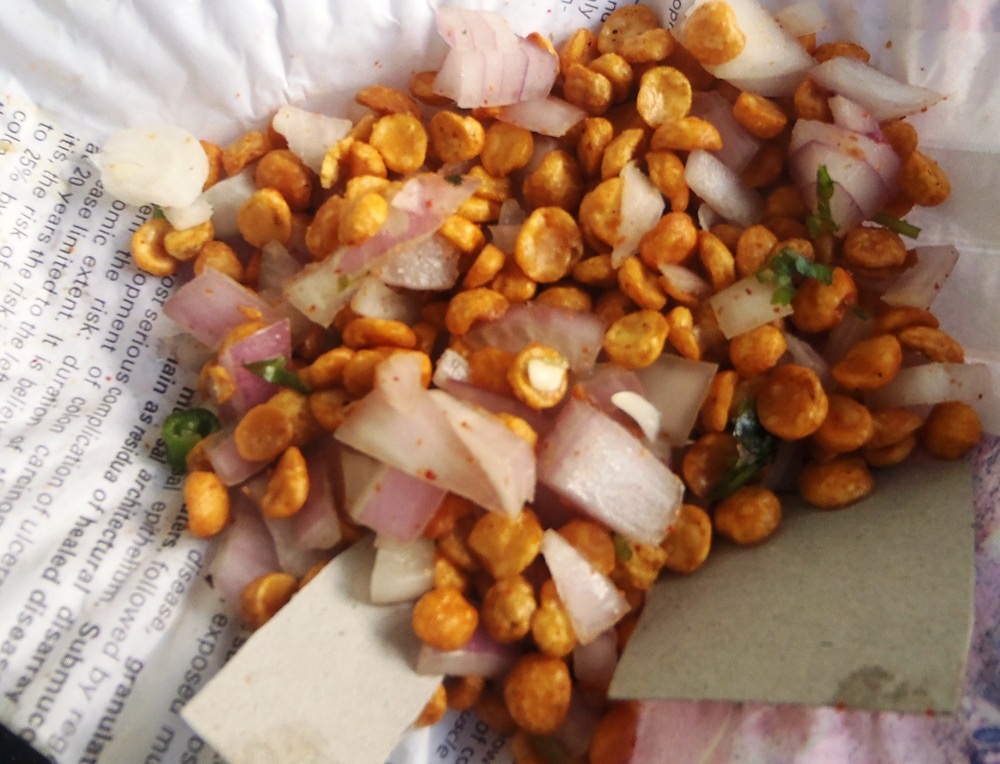 Samosas – No train journey in India is complete without one. These potato – triangles coated with chickpea -flour and deep fried are great travel– food.
Pakoda and cutlets: The cutlet- eaters have an edge over the chatpate chane – munchers for obvious reasons. Cutlets are served on a paper plate with "ketchup" on the side, unlike a hastily ripped off piece of paper that is wrapped around a handful of roasted gram.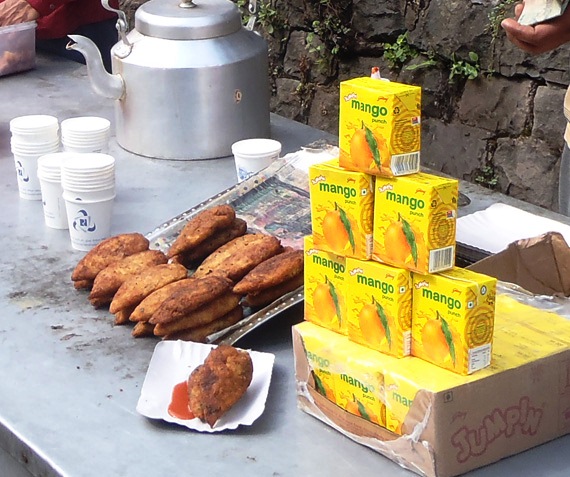 Tea/Chai. Unusually milky and pale but goes well with the passing scenery and doubles in delight if you can make slurping sounds when drinking it. Coffee usually takes a backseat here – chai is the traveler's brew, at least in these parts.  If there happened to be a pack of "Parle G" biscuits, life feels great. (see pic for suggestions on eating it!)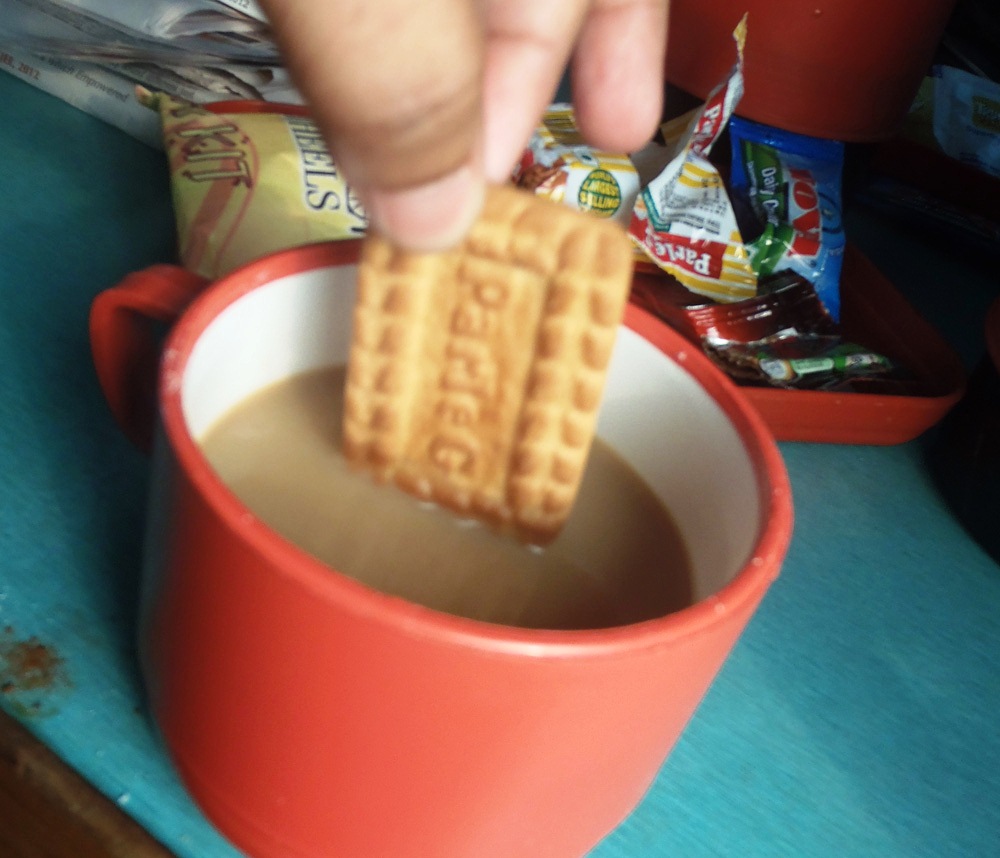 The train stations are nothing less than a food court – and always full. I have often wondered what it was about train travel that made you forget the calories, hygiene and mannerism and turn you into a glutton? Something about the food piles with (often) friendly flies around it set the gastric juices flowing – its one of those unexplained things in a travelers dictionary.
I say – Travel on the Shimla's Toy Train for a whole different experience!!!