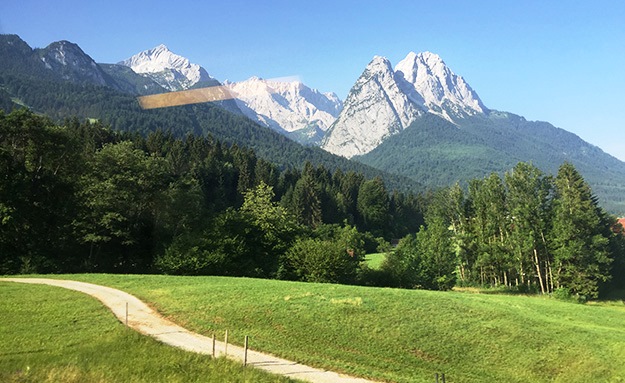 This article appeared in Aug 14th edition of Khaleej Times (Wknd). For those living outside of UAE – here it is! 
Germany surprises its visitors with its castles, autobahns, picture-perfect countryside and Mt Zugspitze in the Bavarian Alps.
Whether you are a skier, snow-worshipper or a casual tourist, standing at the highest point in Germany and drinking in the beauty of the snow covered Bavarian Alps is akin to being one with nature
To be fair, before I set out for Deutschland, I had no thoughts of exploring southern Germany, namely the Bavarian Alps, but a conversation with a co-passenger on the bus from Heidelberg set me on a different track.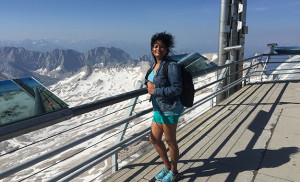 Instead of lingering on in Munich I booked a hostel in the mountain resort town of Garmisch-Partenkirchen and, before long, installed myself in a room with a window that opened to the Große Olympiaschanze, a highly modern ski-jump, with a mere railway line between us. Okay, I exaggerate. I admit that the ski jump was so big it could be seen from any window in Garmisch-Partenkirchen.
It was easy to fall in love with this place, which, apart from being the start of my Mt Zugspitze adventure, was the hub of winter sports in Germany.
Garmisch-Partenkirchen
Here is something about Garmisch-Partenkirchen worthy of mention. Before 1935, Garmisch and Partenkirchen were two separate towns until Adolf Hitler ordered its unification in anticipation of the 1936 Winter Olympic Games. Today, oddly, it is referred to as Garmisch much to the disappointment of the people of Partenkirchen.
Years later, the difference is still obvious. Garmisch is modern with a bustling nightlife, while Partenkirchen is fresco-filled and cobblestoned, offering a glimpse of a typical Bavarian village with houses covered in large murals depicting stories of yore.
On the night of my arrival, a thunderstorm started, plunging this small town into considerable darkness, broken occasionally by lightning streaks. I did wonder if I had walked into a catastrophe, little knowing that thunderstorms were common in this part of the world and the only worry was falling branches if I were stupid enough to venture outside to walk under trees.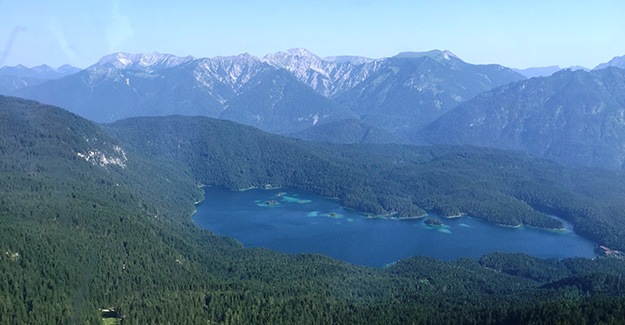 Mt Zugspitze
The morning following the thunderstorm was bright. I boarded the Zahnradbahn – a metre-gauge rack railway that started from Garmisch with its own separate ticket booking office behind Platform No. 2 and cost Euro 52 for the round trip – thankful to find a window seat. A friendly bookstore guy had hinted at starting early to avoid the "rush of tourists" and I had taken his advice seriously.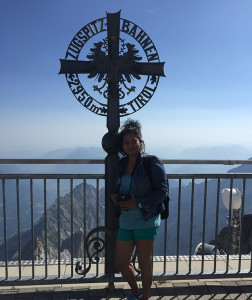 I wasn't here for adventure sports or hikes, but only as a tourist nursing a knee injury, to see Zugspitze from my own personal perspective and perhaps enjoy a coffee at the 'Top of Germany'. It would be serendipitous to drink coffee with Germany at my feet – and at 2,964m. it was something I was looking forward to.
Through the postcard countryside the pretty blue and white train travelled, stopping at tiny stations and crawled uphill through Alpine forests and pretty villages until we arrived at Eibsee. From here, there are two ways to the summit. One is to continue on the same train to Zugspitzeplatt at 2,600m and take the Gletscherbahn to the summit. The second is to take a cable car at Eibsee and head straight to the summit. I chose the latter.
Ten minutes of swinging upwards rapidly in a super-steep cable car, I was at the top. In the distance, Lake Eibsee looked like a large blue dot surrounded by protective green.
It is said that, on good days, one can look into Austria from Germany's rooftop, but on this particular day, I did not. Austria, I knew, was just there somewhere, but that's all. The golden cross on the summit shone in the pale sunlight, luring the daredevils to claim the crown. To reach the summit, be warned, is slightly tricky and should not be attempted if you are a newbie and fear heights.
It was cold and windy and there was surprisingly a large amount of snow on the plateau despite it being summer.
And, it was beautiful.
In the distance, I spotted a small chapel and after downing a cup of coffee and eating a salty pretzel, promptly descended to the plateau wondering why this particular side of Germany is not so well-known outside Europe – because it really was breathtaking in its beauty.
As I trudged up the steep stone steps to this hiker's chapel – the Maria Heimsuchung, small enough to fit 25 worshippers – I realised that this was also the highest church in all of Germany.
Snow, no matter how much you see it, is a huge magnet – people rolled in it, went tobogganing, made a snowman and threw it at each other, giggling all the while. Clearly, Mt Zugspitze is not the place you go to if you are looking for peace and calm, but, at a stretch, you could go there to lunch and enjoy it completely. I did. My self-service lunch of steak and fries at an altitude of 2,600m at Sonn Alpine was the best meal of all in Germany. As winds continued to blow, the steaming hot fries provided the warmth.
I returned on the train to Eibsee, half hoping to find a quiet spot by the turquoise lake, except that it had been taken over – at least most of it, by day trippers, holidaymakers and camera-wielding tourists. I had been warned.
Two days later, as I boarded a train out of GaP, I realised there must be a whole new meaning to the word "holidayed" in Garmisch. It had a certain aristocratic ring to it.
When in GaP, keep in mind.
There are frequent trains and buses from Munich. GaP has many hostels, hotels and gasthaus (German style, family run inns or taverns with rooms for rent). It is easy to find a place during summer, but in winter it is best to book in advance as accommodation gets filled up to accommodate skiing enthusiasts.
The weather can be a bit playful here. When it rains, there is no stopping it, but when the sun appears the entire countryside becomes a piece of paradise.
The food is basic Bavarian, consisting primarily of meat. There are a few Turkish and Asian restaurants in the Garmisch side of town, along the Marienplatz. Try an ice cream cone – it is pretty famous even during winter!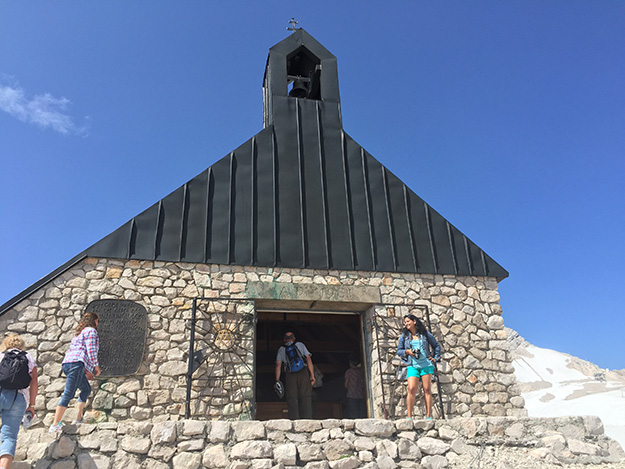 Up to Mt Zugspitze
If you are starting from Garmisch-Partenkirchen, your ride will take 75 minutes, and 60 minutes if the starting point is Grainau. The Zahnradbahn ascends Mt Zugspitze on cog wheel power.
You can continue on the same train to Zugspitze Glacier Plateau at 2,600m and switch to the Gletscherbahn aerial cable car for a quick ascent to the summit ridge. Or, you can ride the cable car straight to the top from Eibsee at 2,964m and later descend to the plateau at 2,600m and return on the train that way.
The ticket prices remain the same whichever way you want to travel.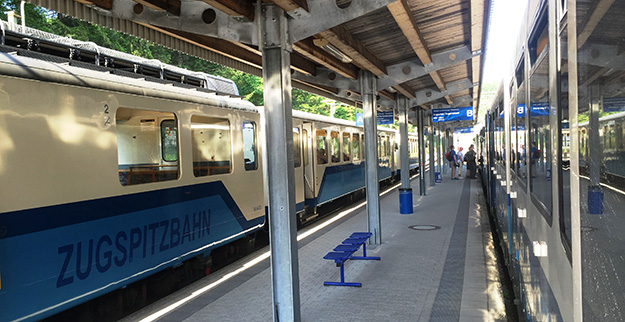 If you're driving, park at Eibsee and take the Eibsee-Seilbahn cable car up the mountain and come down by the Zahnradbahn. However, if you have a heart condition or are sensitive to altitude, it's best to ascend the mountain more slowly by cogwheel train.
Go up the mountain early to avoid the rush. Have lunch at one of the mountain restaurants – it is a great experience.
The last train or cable car down the mountain is in late afternoon. Arrive early enough to avoid feeling rushed!
Avoid weekends altogether. It can get a bit too crowded at the top.