If you ever find yourself in this spa town of Karlovy Vary – and you should, at least once in your lifetime visit here – the first thing that will strike you is its richness. Old wealth, Russian dominance, splendour, sick people looking for health in the hot springs and paper-thin wafers, known as Karlovy Vary wafers or Spa Wafers.
This post is, however, about wafers.
As you stroll down the promenade, it is not uncommon to see people munching on these papery thin, delicious snacks all over.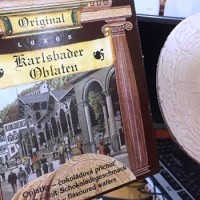 There is a little bit of history attached to this circular snack. The early incarnation of this snack differed greatly from today's wafers and existed before 1800 when cooks who prepared this sprinkled them with sugar for spa guests of the day.
In the later years, they began appearing as "layered" and spices were added and it is believed that the legendary "flavour" of this snack is due to the Vary spring water. It could be true too – given that hundreds of people come to this spa city to drink "health" in the form of spring water spouting from numerous fountains dotting the city out of tiny cups (more on this in a separate post).
The first bakery to specialise in these wafers, rather sell them packed, started in 1867, and since that time they have become a staple snack of this city.
They are called "spa wafers" because these wafers used to be consumed in between spa sessions of those rich aristocrats back in the days when local Czech and tourists had not started to arrive.
These wafers are today sold in many flavours – chocolate, cinnamon, lemon, caramel, vanilla or hazelnut mix and twenty others – and every one of them is great to eat.
On my visit, I grabbed a handful of these – without really carefully picking out the flavours – such is the guarantee of their goodness. Plus, these wafers make for great souvenirs and gifts for friends and family demanding something "exclusive."
There is the becherovka too – a digestive aid made of twenty secret herbs – and that I will write about in my next post!
Bonus picture from Karlovy Vary below!