Sharjah, the third largest emirate after Abu Dhabi and Dubai, doesn't dazzle with glitz, but with culture. Overlooking the Arabian Sea, this emirate has maintained the reputation as the cultural capital of the Middle East. Sharjah is bordered by the cities of Dubai and Ajman and is about 170 km away from the capital city Abu Dhabi.
The palace of the ruler of the Emirate of Sharjah Sultan bin Mohammed Al – Qassimi is located about 20 km southeast of the city. City of Sharjah contains the main administrative and commercial centers together with an array of cultural and traditional projects. Museums of natural history, Islamic art and heritage, distinctly styled elegant mosques and covered souks are a part of Sharajah's landscape. Every landmark in this emirate reflects the history of the region. A number of recreational areas and public parks such as Al Jazeirah Fun Park and Al Buheirah Corniche are a huge draw.
Central Sharjah wraps around Khalid Lagoon. It's restored central Arts and Heritage Areas are among the most interesting neighbourhoods in the UAE. Lively souqs add a special charm of being in this essentially concrete city which despite the ever-present traffic does not deter the visitor. If you are up to it, try walking around this compact city. The historic old town, with the souqs, museums, and heritage and arts area, is to the north across Sharjah Bridge. Sharjah is also an important educational Centre, with many fine universities and higher education institutions established in the Sharjah University City. Sharjah's beaches are clean and excellent for family outings.
Sharjah's cityscape saw a sudden spike in the number of skyscrapers following the construction boom in Dubai and many of the modern buildings you see today around the Al Khan and Khaleed Lagoon area came up as a result of that. These modern tall buildings subsequently became homes of people from Dubai when the rents shot through the sky – this resulted in the Shajah's infamous traffic jams. Additionally, it's location, being positioned between the northeastern emirates and Dubai made it a popular choice for resident to live. Rents in Sharjah are far cheaper than in Dubai and a huge number of people working in Dubai and even Abu Dhabi live in Sharjah and use the excellent road facilities to get around.
Sharjah owns three enclaves on the east coast, bordering the Gulf of Oman – these include Kalba, Dibba Al Hisn and Khor Fakkan which provides Sharjah with a major east coast port. Sharjah has an enclave called Nahwa inside the Omani enclave of Madha which borders Fujairah, Ras Al Khaimah and Sharjah. Sharjah also encompasses some important oasis areas, the most famous of which is the fertile Dhaid region, where a range of vegetables and fruits are cultivated.
Sharjah has excellent medical facilities with many medical centers and specialty hospitals. The municipality undertakes surprise inspections of restaurant and hotels and shut down any establishment that might not meet the high standards of hygiene.
NOTE – Visitors please note that Sharjah takes its decency laws very seriously, so dressing modestly is a must. No exposed knees, backs or bellies – and that rule applies to both men and women. It's also a dry emirate – which means you cannot get alcohol anywhere in the emirate. You cannot even be seen in possession of alcohol in the emirate and it is absolutely must that if you returning from any of the other emirates and have indulged, that you avoid getting caught or you will find yourself spending the night in prison. Sharjah however like the rest of the emirates is a very safe place even for single women, considering that laws are very strict.
History
Once upon a time one of the wealthiest towns in the region, Sharjah has recorded evidence of settlement that existed for over 5000 years. In the early 18th century, the Qawasim clan (Huwayla tribe) established itself in Sharjah. On 8 January 1820, Sheikh Sultan I signed the General Maritime Treaty with Britain, accepting protection, like its neighbours. Like four of its neighbours, Dubai, Ajman, Ras Al Khaimah and Umm Al Quwain its position on the route to India made it important enough to be recognized as a salute state. On 2 December 1971, Sheikh Khalid III joined the United Arab Emirates during the foundation of the united federation.
Like the other former Trucial States, Sharjah was popular among stamp collectors because of the large numbers of stamps that were issued by the Sharjah Post office before the formation of the United Arab Emirates.
Governance
Sharjah is a constitutional monarchy and is ruled by the Wahhabi Al Qassimi dynasty since the 18th century. At present, the emirate of Sharjah is ruled by H.H. Sheikh Dr. Sultan bin Mohammad Al Qasimi, Member of the Supreme Council. Under his patronage Sharjah emerged not only as the Cultural Capital of the UAE but also of the Gulf countries and the Arab World. The promotion of Sharjah as the Cultural Capital of the Arab World by UNESCO in 1998 was a direct recognition of the leadership and efforts by His Highness.
Years of Reign
Name
1727 c. – 1777
Sheikh Rashid bin Matar bin Rahma Al Qasimi
1777–1803
Sheikh Saqr I bin Rashid Al Qasimi
1803–1840
Sheikh Sultan I bin Saqr Al Qasimi
1840
Sheikh Saqr bin Sultan Al Qasimi
1840–1866
Sheikh Sultan I bin Saqr Al Qasimi
1866 – 1868 (14 April)
Sheikh Khalid I bin Sultan Al Qasimi
1868 (14 April) – 1883 (March)
1869-1983 jointly w/next leader
Sheikh Salim bin Sultan Al Qasimi
1869–1871
Sheikh Ibrahim bin Sultan Al Qasimi
1883 (March) – 1914
Sheikh Saqr II bin Khalid Al Qasimi
1914 (13 April) – 1924 (21 November)
Sheikh Khalid II bin Ahmad Al Qasimi
1924 (21 November) – 1951
Sheikh Sultan II bin Saqr Al Qasimi
1951 – 1951 (May)
Sheikh Muhammad bin Saqr Al Qasimi
1951 (May) – 1965 (24 June)
Sheikh Saqr III bin Sultan Al Qasimi
1965 (24 June) – 1972 (24 January)
Sheikh Khalid III bin Muhammad Al Qasimi
1972 (25 January) – 1972
Sheikh Saqr bin Muhammad Al Qasimi
1972 – 1987 (17 June)
Sheikh Dr. Sultan III bin Muhammad Al Qasimi
1987 (17 June) – 1987 (23 June)
Sheikh `Abd al-`Aziz bin Muhammad Al Qasimi
1987 (23 June) – present
Sheikh Dr. Sultan III bin Muhammad Al Qasimi
Climate
The climate in Sharjah, like the rest of the emirates, experiences harsh and humid summers and cold to freezing winters. In summers, the mercury can soar up to 45 degree centigrade and plunge to as low as 8 degree in winters. It is recommended that you carry a light jacket with you at all times, as most of the malls and cinema halls and restaurants run the air condition on full blast.

Getting there/Around

Sharjah has its own international airport and is connected to all major international locations. Air Arabia launched in 2003 is the regions first low cost carrier and originates from Sharjah. The airport is located about ten kilometers from Sharjah city center.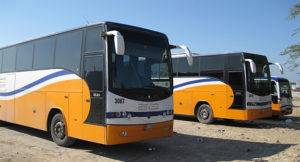 Taxis are available from the airport with special taxi for women passengers.
Only recently, the Sharjah Public Transport Corporation (SPTC) started public transport system in the emirate with buses running from Sharjah International Airport to Al-Sharq terminal. Later inter-city buses were introduced.
Metered Taxis are available in Sharjah for the intra-city as well as the inter-city travel. The base fare is AED 3 with AED 1 charged for every 650 meters of travel. For intra-city travel, especially to Dubai, , a minimum fare of AED 20 is added to the running fare.