Lausanne came as a pleasant surprise. In fact, so it does to scores of first timers visiting this hilly town on the banks of Lake Geneva.
As soon as I got off the train at Lausanne (from Zurich) and got into the "metro" to finish the tree stops to my hotel, I got the first surprise. The metro itself. Well, there are FOUR reasons for this.
This is Switzerland's first metro station
The station at Lausanne is on a gradient! As I waited for the train to Bessieres, I let my suitcase roll a few times, till someone gave me a look that said – enough!
Every station till I arrived at mine at Bessieres has a distinct music played as the train rolled to a stop – at Lausanne Flon, you can hear the sound of a flowing river and at M. Bejart you could enjoy a note of music…and so on.
Lausanne is the smallest city in the world to have a metro!
Lausanne, located in the French speaking region of Switzerland (Romandy or Romandie) overlooks the French town of Évian-les-Bains (across the lake), is about twenty minutes by train to Montreux (another French speaking town) and about thirty eight miles to Geneva.
FACT No 1: Lausanne is the headquarters of the International Olympic Committee, making it the Olympic Capital. There is a very interesting museum with many Olympic memorabilia and information about Olympic from the very start.
From the metro station, I walked to the hotel, merely two minutes away. However, as soon you get out of the station, look to your left for some fantastic views of Old Town and the Cathedral towering above everything else. The Gothic Lusanne Cathedral is protestant (after the Protestant Reformation), the construction of which began in the 12th century as a Catholic cathedral!
A piece of useful information




The medieval wooden stairs

: 
From the Old Town (Place de la Palud) there is series of medieval wooden stairs (covered) leading right up to the Lausanne cathedral. If you aren't keen on walking up, then you can take the stairs coming down – but it definitely is a must try! (More in the next post on the wooden stairs)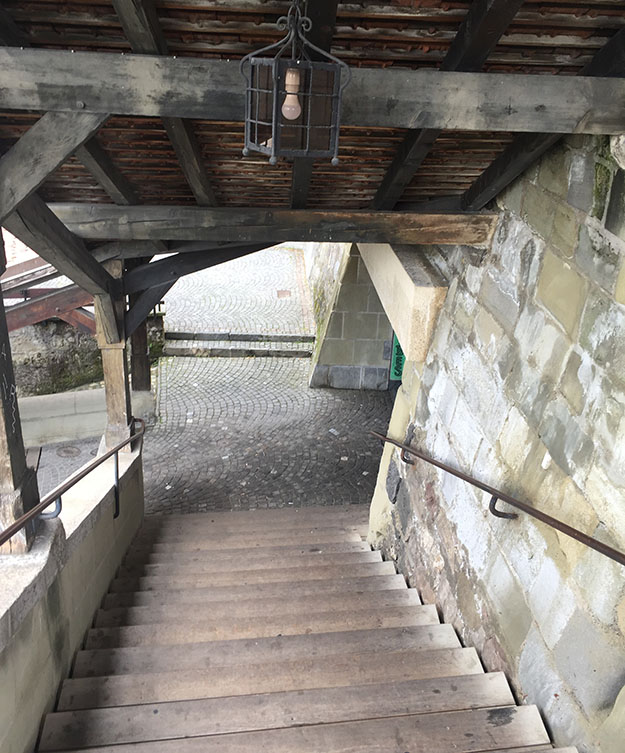 This ascent is definitely NOT going to kill anyone, but if you find yourself gasping for breath, there are plenty of stop points along the way and fantastic views over the city. Sit yourself down on the many benches and admire the medieval buildings alongside it as well.
The city will never disappoint you.