You find them everywhere in the Gobi – round and white, they sit comfortably under the blue Mongolian skies – add that romantic charm to the endless steppe prairies. Yes, that is the Ger (or yurt) – white and round and referred to as the "pearl" of the Gobi.
I didn't know that until I actually asked the local guide a question.
Why are the gers always white?  Why not yellow or blue – that would look spectacular against the eternal blue skies of Mongolia?
The guide's answer was not very convincing – but the fact remains that gers are always white, their doors always face south, one is not encouraged to walk between the two poles that serve as the central support, it can be dismantled and re installed in two hours, is the best protection against the harsh Mongolian winters…and contrary to what it looks like, it contains beds, sofas, cupboards, TV… inside.
I haven't met anyone yet who hasn't expressed a desire to live in one – but that is another story altogether.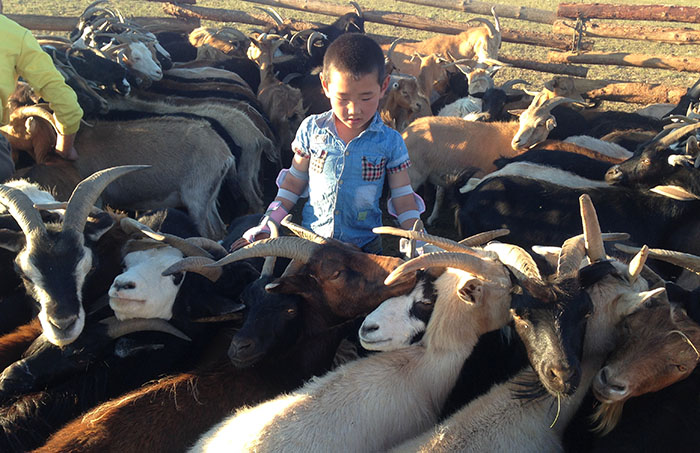 Every nomadic family own cattle – cows, sheep, goat, horses and closer to the Khongor, camels.
Rightfully so it is called the Pearl. Now I agree.
I loved my time in the Gobi – although it took me nearly a week to actually miss having a shower. Water is scarce in the Gobi and people have to travel far for it.
The gers were really comfortable, so much so that I swapped the thrill of sleeping in a tent over a ger for most nights – it was nice to sleep on a real bed in the middle of the steppes! The tiny doors and wooden pillars painted in vibrant colours, the 'walls' covered in camel skin or heavy carpets, the hissing stove in the centre of the room – the warmth of people sleeping so close together was fascinating!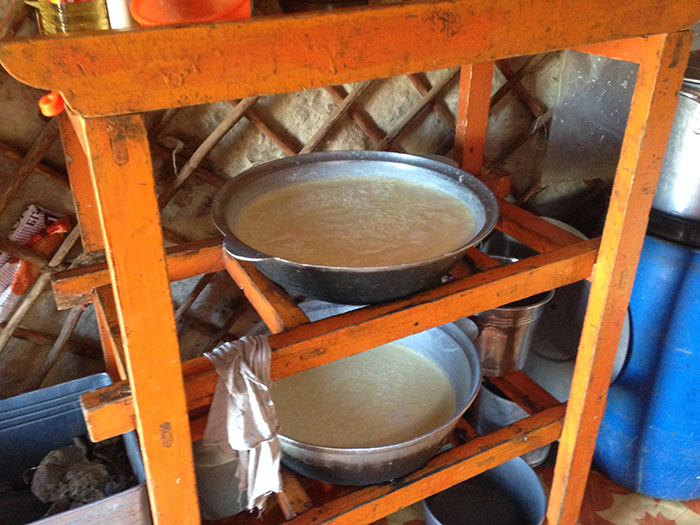 The process of making Aarol (aaruul/arul) – a staple food in the Gobi. Aarol is dried yogurt or curd made from cow/goat/yak milk and is found in every home.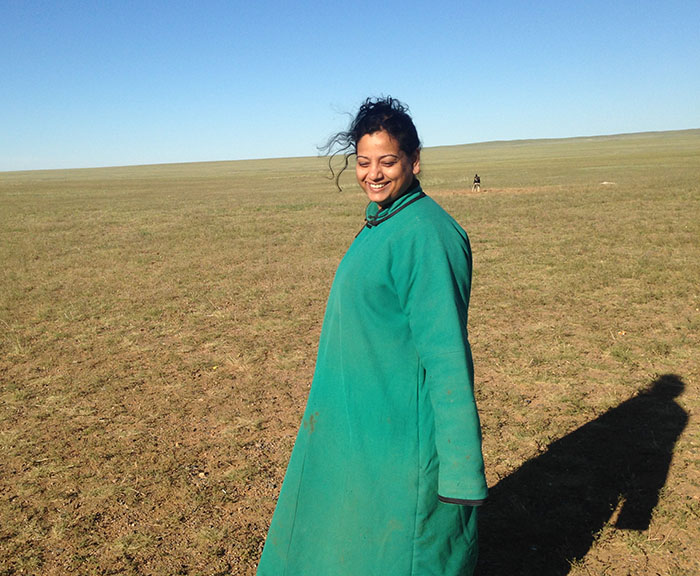 Wearing a traditional Mongolian winter-gear.
The winters can get very cold – and even on summer nights, temperatures can fall drastically. Gobi is the coldest desert on earth and often sees snow in winters.
Need to know:
The Mongolian ger is the Russian 'yurt'
The ger door always faces south
The ger is made of felt and cloth
There are no windows in the ger – only a brightly painted door – the colours are usually orange and blue and are intricately designed.
The gers have a stove in the centre and a chimney poking right through the roof.
If you wish to travel in Mongolia, I highly recommend Sun Path Tours. Also, mention my name to get an additional discount!!!