I didn't know what to expect when Maja said I was in for a surprise. I wondered how much different this part of Lake Ohrid could be from the rest –  but the word "surprise" had a good feel to it. She smiled and lead me through.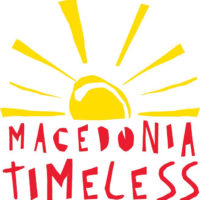 Soon enough we turned towards St Naum Monastery which was crowded, despite the early winter chill.
A few meters from the entrance, a surprise awaited indeed. There, amidst the lush verdure where the River Crn Drim tumbled into the blue Ohrid Lake, was a refuge that I could only describe as Paradise. Maja was right – and she was smiling at my shock. "I told you" her smile said.
I stopped and stared. I was surprised at my own reactions too. How could anything be so beautiful?
Lunch over a lake
Before heading to the monastery, we stopped to lunch at Restaurant Ostrovo, built alongside one of the two islands in the springs of Crn Drim river. Here, (still staring open mouthed) I turned into a believer. If anything could be so beautiful and perfect, then there sure was someone up there with a very imaginative mind that demanded respect!
As such the area of Naum is surrounded with the best nature in the region of Ohrid and to have a pristine green lake under me as I dined was magical – or spiritual, whatever you wish to call it. Wild ducks swam up to us, the blue sky  reflected off the lake, gentle breeze and warm sunlight turned an otherwise ordinary lunch into a memory that I am going to keep for a very long time.
The lunch (in a separate post) was delicious, and soon enough after raising a toast to the beauty of Naum, I took a boat ride on the mother of Lake Ohrid – river Crn Drim. We rowed over underwater springs which are home to endemic flora and fauna including a very special species of violet coloured algae and small water turtles.
The monastery of St Naum
The St. Naum is a tranquil refuge, about 30 km from the town of Ohrid and sits just short of a kilometer from the Albanian border. If Ohrid is your last stop, visiting Naum crowns your experience of Macedonia.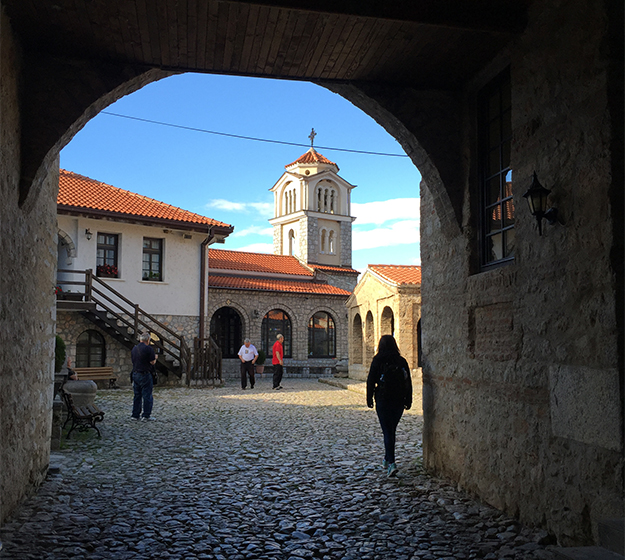 Sitting on a high, rocky outcropping over the blue Ohrid Lake, the monastery of St Naum is unique. Not just for its positioning or its antiquity  but for the fact that you can still hear the saint's heartbeat by pressing an ear to his stone coffin inside the church and the number of peacocks you will find at the monastery!
I heard it too. A rhythmic beating of the heart when I placed my ears on the cross over the coffin.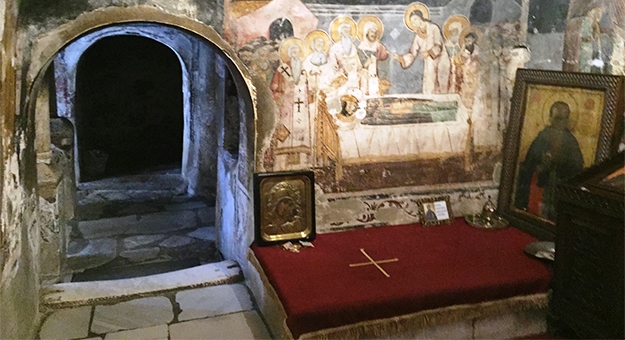 The monastic complex and church of St. Naum were built originally at the turn of the tenth century by the monk names Naum, who was later canonized. The monastery has been renewed and enlarged several times over the centuries.
It might interest you to know that the icons of St. Naum are some of the best religious painting achievements in the Balkans dating from the first half of the 18th century. Not much is known about St Naum and his early days, but he is clearly the patron saint of Ohrid.
MUST KNOW

Give yourself at least 5-6 hours or more to really enjoy your visit to St Naum. There is a bus running from Ohrid 6-7 times a day to St Naum at a cost of 110-150 MKD
If you come by car, you have to pay for parking at the entrance to the monastery.
Boats run to Sveti Naum every day at 10 am, returning at 4 pm, and it's about 90 minutes one way
If you arriving by taxi, you can make a stop at Bay of Bones as well (in the price you will pay).
Entrance fee: 100 MKD
Parking fee: 50 MKD