This one-tray chicken wings and vegetables dish is the easiest thing to make – and is wholesome. For me, an entire meal in itself.
Set a bed of veggies – I used potatoes, baby carrots and cauliflower (dunked in hot water for a few minutes), onions, blanched tomatoes, dill, salt and pepper. I also add some rosemary in all my dishes because I love its flavour.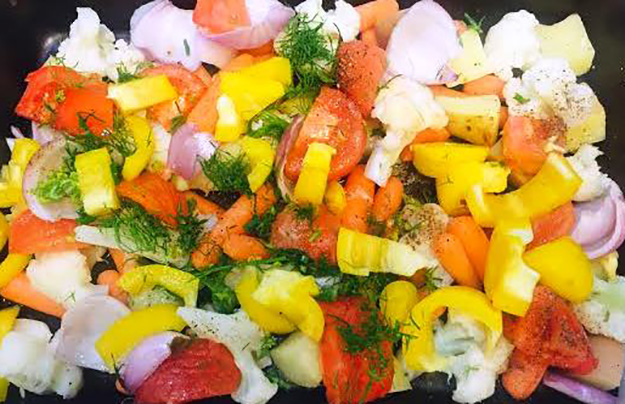 Now, the chicken wings are the second part of this recipe.
First, marinate wings. I use the following –
A spoon of honey
Paprika
Crushed garlic
Salt and pepper
Lemon juice
(You could, of course add chili or hot sauce).
Set aside for 20 min.
Lightly grease a pan and put the wings on it – to seal the marinade. Flip sides. Remove from heat and place it on the veggies.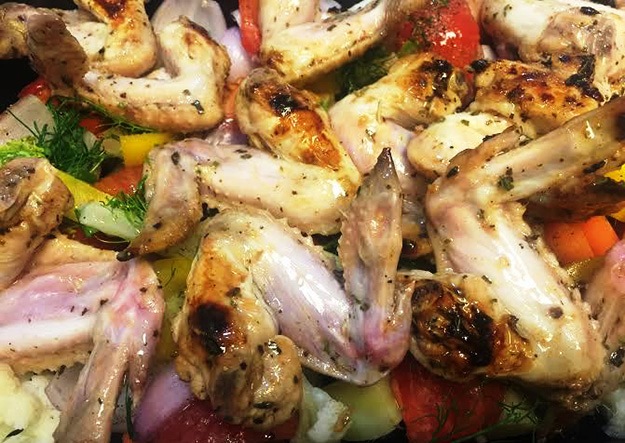 Place it in the oven till vegetables are done and chicken wings turn golden and crisp.
Here is a trick – if you have not pre-boiled your vegetables, add half a cup of chicken stock to it before putting it into the oven. I found that this method makes cooking vegetables faster. By sitting the wings on the vegetables, you are also ensuring that any liquid run-off from the wings gets nicely mixed with the vegetables giving it a unique flavour.