That evening when I wandered into the Masaai Village outside the Rhino Tented Camp in Masaai Mara, after the payment of USD15, little did I know that a surprise awaited.
Although I had scouted the village earlier in the a.m, photographing the Massai's, I was surprised at their hospitality when I went as a "paying guest".
To them, I was a muzungu alright. I suppose that, and the fact that I did not bargain over the "entry" fee of USD15!
A bunch of young masaai men walked me around the village, some of them spoke English surprisingly well. Masaai women sat under trees, beading necklaces while snotty kids played with cattle that was herded into the village by the elders.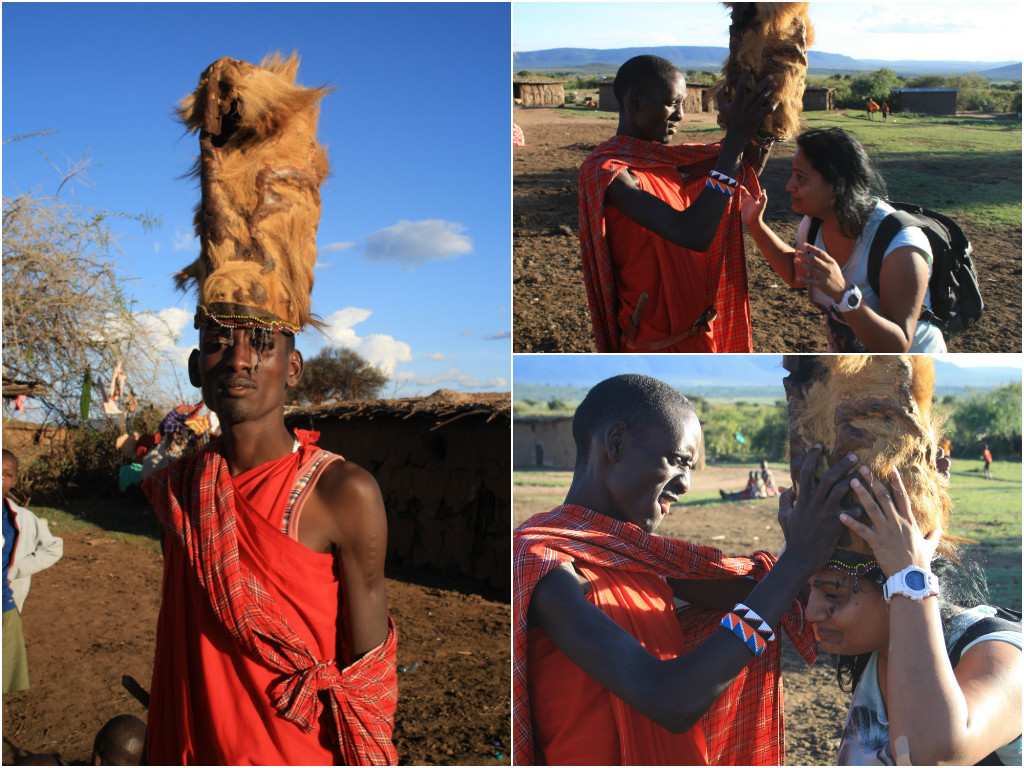 The village headman's con invited me into his small, circular, dung-made home, offered me a seat and produced a bowl with ugali in it (ugali – a plain cornmeal porridge). I politely declined.
We walked out of the dark hut and into the sunlight. From somewhere in his kanga, he produced what looked like a lions head and before I could react, asked me to marry him.
I suspect he does that to every muzungu woman who visits the village- but it was really funny.
I asked to see the head. He explained how he had killed the lion with a machete he had shown me earlier, because the lion had killed his cattle and kept the head as a souvenir. He then respectfully placed the lion head on my head and once again offered me 6 cows to become his wife!!! You had to give it to him – he was very persistent that way!
It is rather hard to keep a straight face when you have a real lions head on yours, a fellow-tourist shooting everything that was going on and kids running about gleefully, but I did keep a straight face and refused! He didn't mind, of course – being used to the inevitable muzungu-rejection!! But really, he was sweet.
I hoped I had not committed a "Masaai crime" by rejecting the proposal, but well! The rejected groom then dressed me up in his shawl, just to complete the picture! Can't say I was disappointed – it was worth every dollar I spent.
When at the Masaai Village – remember not to cringe or make faces if you step into dung – cattle is very sacred to the Masais and dirt is pretty much a part of their everyday lives. Take them as they are – they are really sweet people – you might find that the system of asking for money even to be photographed a bit odd, but hey, its only a few dollars! If you can spend hundreds of that to get to the game drive, then surely a dollar shouldn't break your budget! You will definitely get your money's worth in pics!!!
However, if your aim is  to backpack in these areas, you might draw a blank. Masaai Mara is about 350 kms away from Nairobi. Black-top roads end after 200kms and there on it is dirt road all the way.  All you see here, traveling these roads are determined safari cars (generally modified matatus), few private safari jeeps and few private cars.
No way you could hitch a ride.

To be in Masaai Mara always, always book yourself on a safari. Budget options are available as well. You might want to try Kairi Tours – they have just the kind of tours you may have in mind. Plus, their Rhino Tented Camp is one of the best in the Mara. I had booked a tent – but what did I get? A huge room, with attached bath, hot water and a queen bed with an extra bed as well! Too bad I had none to share that room with!!! Clean sheets, blankets, excellent food and what's more – there is even a small massage room just in case!!!
THINGS TO REMEMBER
A visit to the village will set you back 1000 KSH or about 15 USD. This way you can take as many pictures as you like, be invited into their home, touch their cows, watch them make fire and dance with them as well.