Kutaisi and Tibilisi are at some kind of war  – not quite a war, but a rivalry for the status as the capital city! The moving of the new Parliament House to Kutaisi has somewhat softened this stand, but not quite! For a resident of Kutaisi is still quite envious of the richer Tibilisi!
A very interesting city – although not quite up there in the touristic circles as Tibilisi or Batumi or even Kazbegi – but it merits a visit nevertheless. The drive from the Capital through one of the most scenic routes is worth the visit. Kutaisi has humid climate and is surrounded by deciduous forests and is built on the banks of River Rioni.
WHAT IS ON OFFER
For the best Khinkali in all of Georgia, head to Kutaisi – that alone can be the reason to go! My own itinerary included an early start from Tibilisi with several stops along the way one of which included a detour through to Surami Village to taste the "mineral water". This brief detour is enough to understand the life of a Georgian village. Old houses line a clean street, rose bushes hang over the crumbling compound walls or balconies, old people hobble around the small town talking excitedly to each other. "There are no young people around", said a chirpy old woman with weather-beaten face, pumping out her chest importantly. "We look out for each other." Then she invited me home for tea.
UNESCO World Heritage Sites: If you are looking to mark up the number of UNESCO sites you have visited, Kutaisi is the place to be. The Bagrati Cathedral and Gelati Monastery with commanding views of the city and River Rioni will please even an average visitor and have bene given the coveted UNESCO World Heritage Site. Few other sites are up for the title here as well.
White Bridge: A pretty bicycle and pedestrian bridge with the gushing river below. This Bridge has a history – it is said that once upon a time long ago, a young boy stole the hats off two gentlemen and then jumped into the river. There is a statue of that boy on the bridge holding up his hat, a very popular "picture spot" for visitors.
The other side of the White Bridge is the Old Town of Kutaisi – renovated now, but still retains much of its old charm. Charming statues, flowered zebra crossing, parks, restaurants abound in this area. It is not uncommon to see Georgians smoking under a shady tree whiling away the afternoon.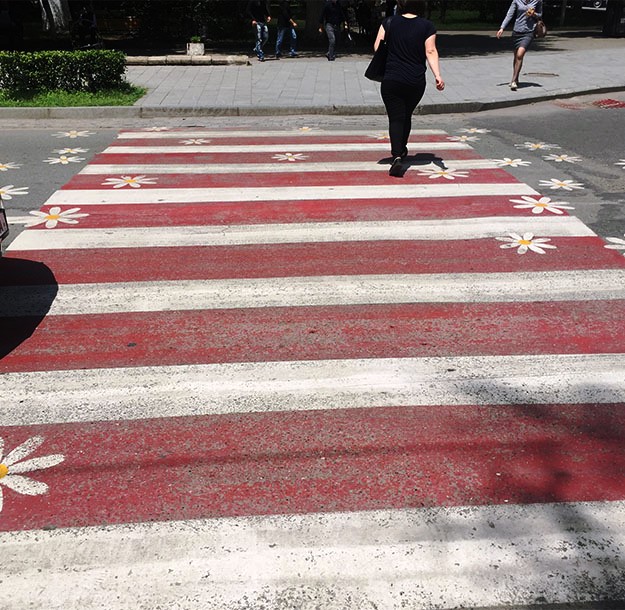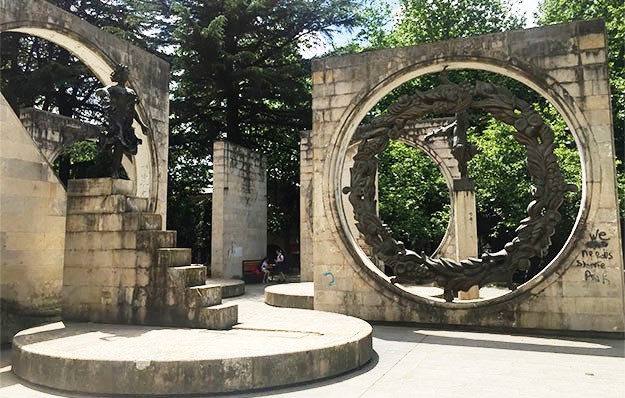 Parliament House: This signs that Georgia is not far behind in modern architecture is evident in the new Parliament House (recently moved from Tibilisi) that resembles a 1960s spaceship- a 40 metre-high domed eye, with a huge concrete eyelid, stares out blankly. Opened in 2012, it was Georgia's symbol for a bright and modern future while the glass is meant to symbolise democratic openness and transparency in a country, which until 1991, was part of the Soviet Union.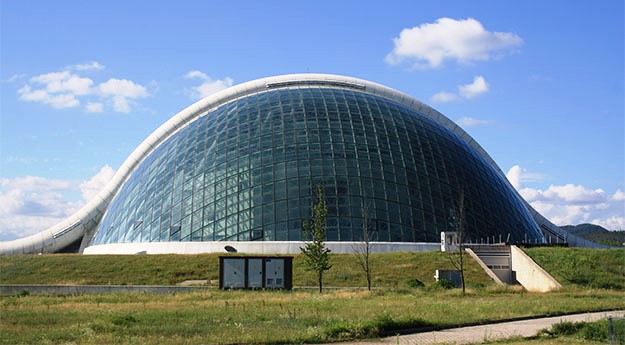 Prometheus Cave:  This interesting natural wonder is a rather recent discovery in the city outskirts and has some interesting underground lakes, caves and caverns, but the highlight is the stalactites and stalagmites formations.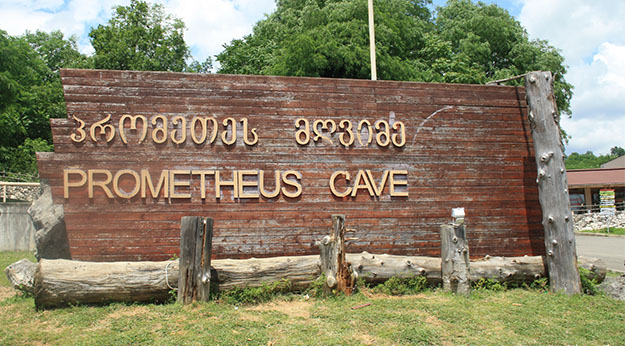 Dine: El Depo (a few minutes walking distance from the White Bridge) has a tall claim – of having the best Khinkali and Lobio in all of Georgia.
Well, I am no expert at certifying the authenticity of that claim, but yes, the khinkali were big, juicier and tad bit too salty and the lobio was exceptional – I might add that kebab wrapped in flat bread was even better, as was the accompanying sauce (spicier then other parts of Georgia). The menu is limited to varieties of Khinkali and lobio – but that is the beauty of this place. Yes, it is cheap too (a piece of Khinkali costs 0.55 lari). Yes, it is open 24 hours – just in case you get that craving for one juicy dumpling!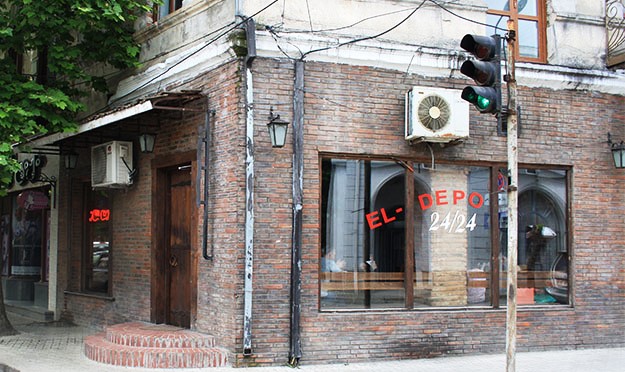 I totally recommend a visit to Kutaisi and totally recommend taking a tour with –