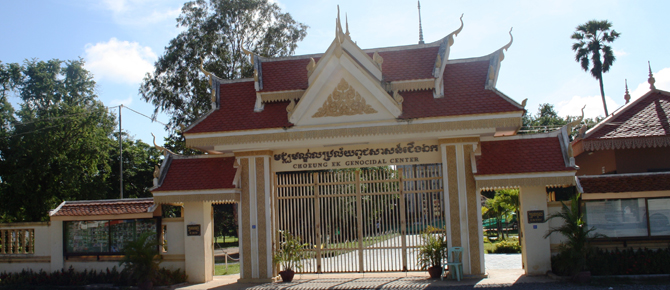 The Killing Fields of Cambodia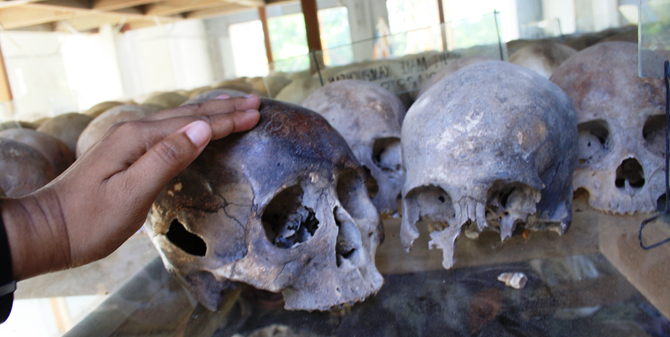 (The below article and picture has appeared in The New Indian Express)
There were very few visitors at the time and I couldn't help but wish I wasn't one of them. I should have let my knowledge of Pol Pot's infamy dissuade me from visiting the site. It was the sort of place that taught you the difference between reading about genocide with a cup of coffee at hand and looking at the site of occurrence without the comforting accompaniment of one.
It shook up your insides.
It was not surprising that the Killing Fields in Phnom Penh didn't attract eager visitors – Choeung Ek Genocidal Centre (famous as Killing Fields), a grim tourist attraction, didn't merit a high rating on guide books and tour operators didn't readily throw you to the spirits for money. If you really wanted to visit the place, you had to persuade them or hire your own transport. Even if you did find a local to accompany you, you were on your own once inside the gates.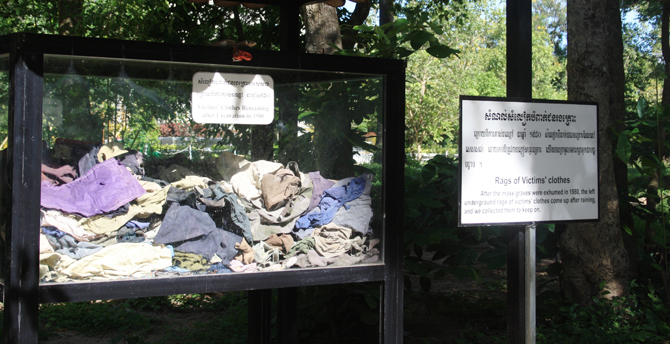 Chances were that incense and flowers by the graves laid by faceless people could have been the one that left you at the gate.
I entered the little museum standing at the corner, saving the visit to the Stupa standing right in front of me for last. The cleaning woman had done a good job of polishing the glass cupboards that held vital evidence, in case the visitor did not completely understand why Killing Fields had gained notoriety worldwide. Axe, sickles, shovel and spades stared back dully beside skulls shining in the bright lights. It wasn't hard to make the connection.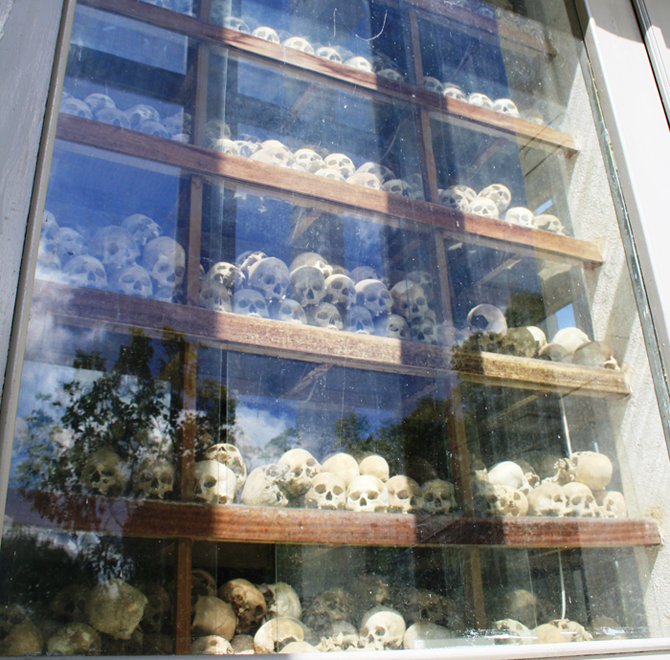 The tower that houses over 10,000 skulls
I could tell from the look on a fellow-visitors face that he too had unexpectedly tasted something bitter in his mouth that had suddenly gone dry as the eyes were turning moist. I wanted the sun and a reason to get out. Only some deep and unexplained desire to know more pushed me along the path leading further into the Fields, an orchard actually, that looked almost peaceful in the morning light and walked over someone's grave, literally. Only I didn't know how I could have avoided doing that; all around and under me were graves, open pits and glass cases containing bones, clothes and other remains still unaffected by nature. Walking through the field of bodies lying under the damp earth was disconcerting. Freaky.
Offerings at the grave sites were the confirmation that people had not forgotten, that they continued to mourn the death of family and friends who came here three decades ago and never returned alive.
Careful not to step over anything, I stuck to the narrow path that ended at a particularly gnarly tree. A board was nailed to its thick trunk. I felt cold – a sudden and unexplained chill which caused me to close my eyes to shut out sounds that started in my head which lasted until I read what was written on the board. The sounds reached a crescendo of screams and moans and just as suddenly reduced to a whisper, an urgent sort of whisper, telling me to get out, anywhere, but essentially out of what was soon becoming my self-imposed sentence.
I stared at the harmless specimen of nature, glorified by the executioners as the Magic Tree. The mute tree had been the executioners' favourite, for its tall branches had been particularly helpful in hanging loudspeakers that drowned the moans of victims being interrogated before being thrown into the many open graves I had just passed by.
I think it was here that I cried shamelessly, perhaps like many others before me, moved in strange ways at the sight of a harmless tree that aided a shocking crime. When I could see clearly, I become conscious of a Cambodian woman beside me staring vacantly at the very tree, her gaze fixed on some point on a branch above. Her lips moved; I couldn't tell if it was in prayer for the departed or a curse for the man who robbed her of her reason to live.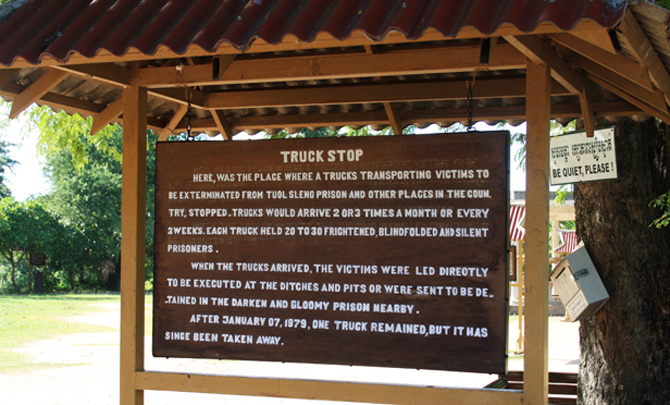 Involuntarily I put my arms around her, hoping to comfort her and thus myself. Her lips stopped moving. She looked at me without smiling. Then she pressed my hand and quietly walked away. I wished she had stayed a little longer; I needed the warmth of a human presence. Even the morning sun filtering through the trees did little to improve the sudden fall in temperature.
I picked up something that looked like a sliver of plastic only to realize it was piece of bone. I have never held human bone before and staring at it for what seemed like an eternity, I understood why it was so hard to let go. It was the last connection to the person it was. I don't know if I was trying to establish a connection but I couldn't bring myself to fling it back to the ground disrespectfully.
I walked aimlessly through the bleak place, trying unsuccessfully to avoid shallow depressions which indicated the graves where bodies were unearthed, some with brief notices listing the body count and finally placed the bone at one of the burial site.
There wasn't much left to see here, if I was looking for cheer, I was in the wrong place. Killing Fields was the last stop for those people brought in dead or half alive, from various interrogation cells around the place, especially the Tuol Sleng Museum or S.21, a former school.
The more I looked around, reading the information on boards fixed to posts and trees, the more interested I was in knowing what had triggered off genocide on such a massive scale_ and for what?
While I was thus contemplating, a group of school children led by a teacher silently passed by. I learnt later that it was a ritual. Local schools brought students regularly to visit the site for reasons best left unsaid.
I rested a while under a tree, sitting gingerly on the wooden benches watching the slow trickle of visitors and their expressions change from eagerness to anxiety and then to extreme misery and horror. No one attempted to photograph themselves beside any grave or signboard. It would have been hard to face the camera and wonder whether to smile or cry. Either would have seemed out of place.
I didn't even try.
Finally I mustered up the courage to walk to the main sight. The skull-filled memorial housed inside a Buddhist – style stupa. You couldn't miss it unless you wanted to. On various shelves of a tall glass cabinet, there reposed over 8900 skulls dug up from the fields – some cracked and many others in pieces, but all of them undoubtedly recipients of blows dealt by heavy or blunt objects. The doors on the lower shelves were left open so you could directly see into the sea of skulls; even touch them if you wished. I did, at first hesitating before being overtaken by a sudden impulse to caress, as though comforting them. Here I saw the culmination of brutality of the regime that destroyed nearly a third of the country's population.
The smell of incense roused me from a brief relapse into history. Someone had arrived to pay respects and mourn in silence. It was time to go.
Handy tips
Cambodia has a visa on arrival policy. People flying in to Phnom Penh can get a visa for USD 25
Airport departure tax of USD 25 applies to all tourists leaving the country
It's possible to reach Cambodia via Bangkok as direct flights to PNH are limited
USD is the preferred currency, though Riel is the official currency
Cambodia is a very open and liberal country with many beautiful sights, eg the Buddhist temples and Mekong Cruises
Killing Fields
An entry fee of USD 2 applies to all tourists
Visitors are advised not to behave disrespectfully at the site. No loud noises and strictly no laughing. Same applies for Tuol Sleng Museum
Do not carry away anything from the Fields as souvenirs