Heidelberg is the kind of place that holds you with its simplicity and elegance. Only a short drive away from Frankfurt, this beautiful historical city that was completely spared the Allied Bombings in WWII is an absolute must-visit for every visitor or resident.
If you are short on time, you can still visit all the major attractions but if you stay longer, your trip to this secret gem of Germany will be more than satisfactory. Whether you love history or adventure, its all here. Mark Twain lived here briefly and was so inspired by this city that he dedicated one entire chapter to it in his book A Tramp Abroad.
Here are a few major attractions that you must NOT miss.
The Heidelberg Castle:
The most popular castle ruins of Germany. The Castle (or Schloss) sits on a hill overlooking the river. Walking up is the best option, although you could drive up – but parking is a bit of a difficulty. It's well worth the hike uphill though.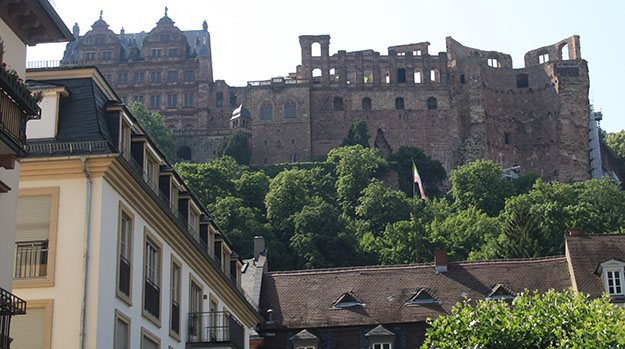 The Church of Holy Spirit:
Between the start and end of the street are churches, namely the church of the Holy Spirit in Marktplatz, the city's most famous holy centre which, not so long ago was a hangout for hippies. You can easily trace its history back to the 12th century and replaced over the centuries in different styles and going from being a place of worship to a university church and once held the world famous Bibliotheca Palatina, founded by Ludwig III in the library section.
This area around the Marktplatz is interesting – while it buzzes with tourists and activities and yet there is sense of philosophical realism here – as though something else exists independently of thousands of observes, living in an altogether different era and space. I don't recall what set me off thinking like that, but my friend felt that too – as though we, in the present, were somehow intruding upon a space that did not belong to us.
The Love Locks of Heidelberg:
You might be tempted to swear an everlasting relationship with this town by affixing a padlock to the Love Rock installed by the Alte Brücke, an old bridge dating back to the 1786 on River Neckar. Bridges with "love locks" are a common sight in Germany, but it is also causing the bridge to destabilise due to the weight. Even if you are not inclined to be romantic about locks, just walking over the old bridge is a delightful experience – more so when you have one of the most famous gelatos in hand!
Neckar River:
This beautiful river that snakes around the city has some fine cruises you can be on! For the best views of the entire city, this is highly recommended.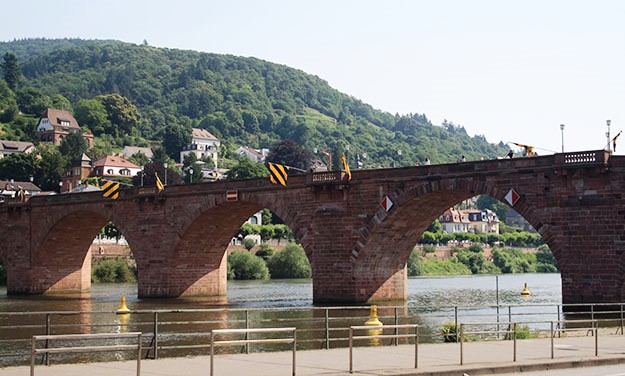 The Philosophenweg:
The Philosophers Walk or the Philosophenweg – is the literary Holy Grail! It was here that Mark Twain walked, while mulling over the concluding chapters of Huckleberry Finn. The trail is rather steep and although you do not have to be in the best of physical health, wearing comfortable shoes is highly recommended, along with a few stop to catch your breath. The Philosopher's Walk however offers some of the finest views of the Old City. There are beautiful gardens and some interesting pieces of history that will take your mind off the effort you took to get up here.
 Beer Gardens
Heidelberg has a fantastic beer culture. It is hard to miss one, even if you aren't looking for one. Heidelberg is particularly proud of its wheat beer – and student parties that go on till 3am, so don't come away from this city without having tasted its fine beer or wine. All along the Haupstrasse and around those lively, narrow winding lanes, you are going to come upon a beer garden or two. There is beer place named Hemingway (although I cant say with certainty if Hemingway ever was here!) close to Bismarkplatz) which is a bit, rough, but you will find a lot of locals eating there. You get some fantastic views of the river though.
Technically, you can see the whole of this University town in a day or less – at least the highlights – but if you must acquaint yourself with everything here, then a few days is recommended.
I wish I had stayed longer. I was only visiting a classmate from Law School days who was doing his Post Doctorate studies here, but I now wish I had stayed there forever!
USEFUL TIP
The Heidelberg Card – is a tourist pass that allows you to ride the public transportation, entry to museums and the lower section of the railway is available at the tourist information office.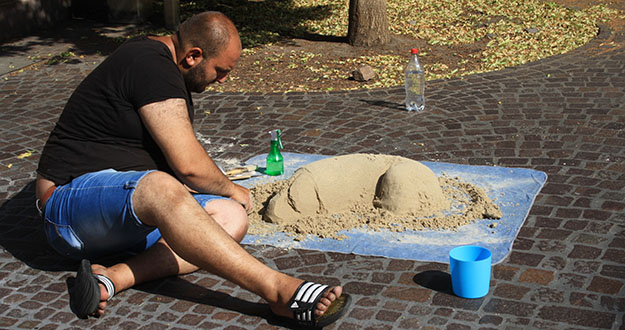 A man making sand-dogs in Marketplatz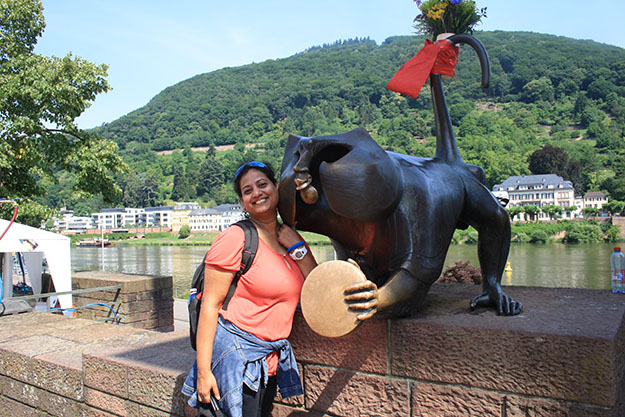 Monkeying about