The drive to Golubac Fortress took me through some amazing landscape – as soon as we left the city and hit the highway leading to Golubac (along the River Danube in several places) we came upon the fruit-growing region, especially apples, which at the time were ready for picking. Once we left the main road and headed towards Silver Lake things changed. Small villages with vibrant food markets, tractors, people in the fields – a typical eastern European village life to be seen here.
I was delighted to see people leaving fresh fruits outside their homes in baskets – for anyone to take it, especially tourists!
The detour towards Silver Lake was a well thought of plan and we were so glad to have taken that route! It is a summer getaway for the city dwellers and a great place for fishing and beautiful weather.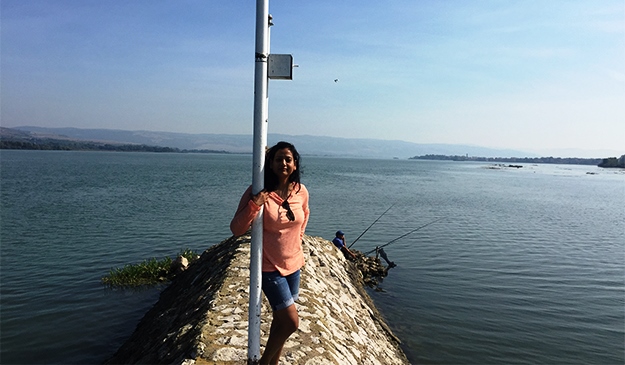 Unfortunately when I visited this side of Serbia, the fortress was closed for renovation – and going by the way work is progressing, it will be a while before it is open to public. The Golubac Fortress is one of the best preserved medieval fortified cities in Serbia (or even Europe).  It's importance was due to its strategic location – the reason many countries involved in fights for it. At different times in history, it was under the occupation of Turks, Serbs, Hungarians and Austrians.
When drove towards the Iron Gates (and our mobile phones registered Romanian network!) along the River Danube which narrowed in some places and widened out in others – the sheer pleasure of driving along the river is unexplained, really.