The Gobi Desert is mysterious and alluring. It is also full of surprises. When I was traversing the desert heading towards Yolyn Am (or the Valley of the Eagles), we passed a narrow stretch of rutted track through the mountains. Just as soon as we reached the other side, there it was – this start of a flash flood. It had rained somewhere farther away.  It did delay us a bit, of course, but then it was the first time I was witness to suggest fantastic glory!
The day I saw my first flash flood is etched in my memory forever!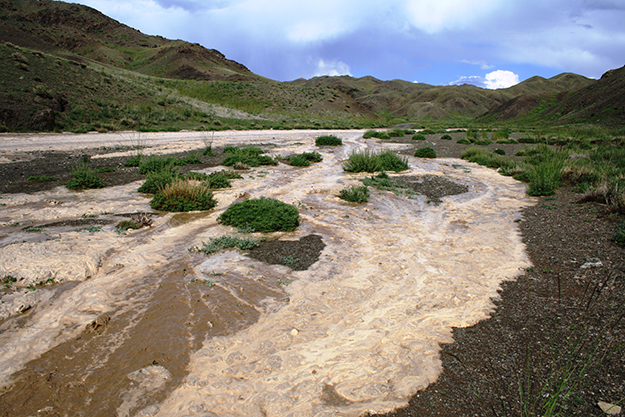 The "flood" soon turned into a proper stream. Thanks to the sturdy Russian van that was our transport, we managed to pull through without getting stuck anywhere!
One wouldn't associate "flood" with a desert, right? It really was shocking and exciting at the same time. It was great to experience different weathers in the desert. We saw rains, thunderstorms, flash floods, ice blocks and dust storms as well.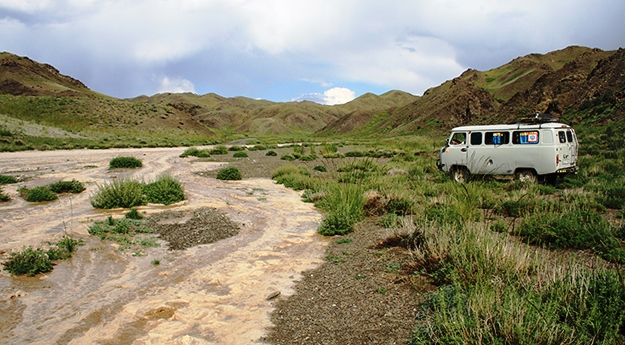 The Valley of the Eagles was another surprise – meaning, this was the Gobi Desert but out here, stuck between some rocky outcrop were blocks of ice! Yes. Ice. That, of course, is a story for another day!!
This valley is located in the Gobi Guruvansaikhan National Park.
Bonus Pic
A cute little store in a smallish village in the Gobi, Mongolia.