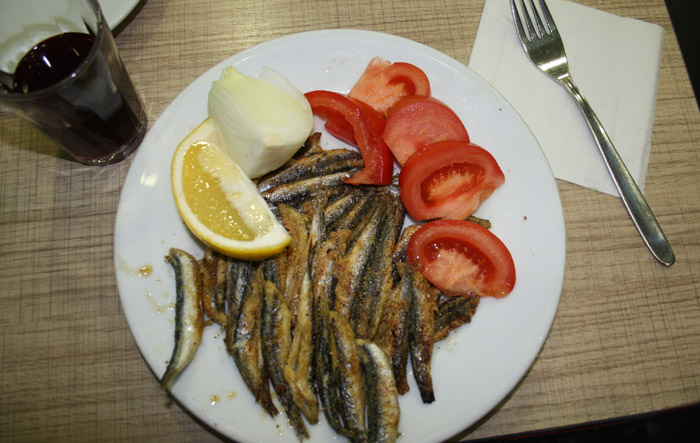 When I was in Trabzon, a singularly picturesque, old world town on the Black Sea Coast of Turkey, I happened to meet and eat The Hamsi. Okay, I kid. I ate the hamsi. And lots of it. I never got to meet it – except for the lifeless ones in a box.
But it didn't happen the way I say it.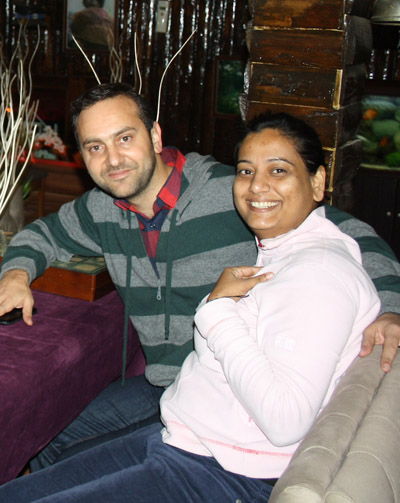 In a town ruled by Hamsi (anchovies), it did not sound awkward when Ibrahim, my couchsurfing host and then pursuing his doctorate in mining engineering at Karadinez Technical University suggested a meal that comprised entirely of the said fish. Hamsi, he said many times and in deep reverence, was a very respected fish. "Trabzon is the best place on the entire Black Sea Coast for hamsi" he said as an encouragement when he saw me unsure. 
In the end, I agreed to try it. When I say "in the end" I only mean my second meal in Trabzon. The first, as soon as I arrived, was a warm, giant simit sprinkled with generous amount of sesame, but I am not complaining.
So we headed to the Square (this is where everything in Trabzon starts) with its neat rows of restaurants, shoe shiners and travel agents and found a restaurant among the hundred others that served – you guessed it – hamsi.
Okay, so it didn't just happen that I ate the revered fish. Before I got the first taste of it, I got a taste of the local tradition that makes me shudder when I think of it. Here is what happened.
With a chimp-like grin so common to eager backpackers, I followed Ibrahim into the restaurant. And suddenly, all activities seized. The tall, handsome and apron clad men with precariously balanced plates and spoons stopped and stared. At me, of course. You see, my brown skin stood out in sharp contrast to their pale Black Sea Coast whiteness. Just then Ibrahim, in a manner of a grand introduction, called out – "musafir. Hindustan."
That's all I understood. The rest was Turkish to me. But I got the meaning.
Then it all started. Two plates went straight to the floor at my feet. A saucer followed and then a few dozen spoons. I could have killed myself to save the embarrassment. What was it about a "musafir, Hindustani" that invited such calculated violence?
I looked for Ibrahim over the din. Oh, after throwing plates on the floor, the men had a formed a man-wall thus blocking my way in.
Then Ibrahim appeared through the Wall, smiling. He then whipped out a camera and started taking pictures. The men smiled. Then laughed. Then grabbed my hands in turn – shaking it violently. I was now completely lost. Then after what seemed like eternity in hell, Ibrahim spoke.
Apparently, it was a tradition. When a visitor you have never seen, from a country you have only heard of (India had long ceased being called Hindustan but news reaches late here) and you were not likely to visit, arrives at your doorstep for the very first time – it is important to make them feel welcome. Breaking plates was their way of making me feel welcome – a tradition, Ibrahim explained.
Only then was I allowed to make acquaintance with a plate of hamsi. And I loved the plump, juicy, semolina-coated anchovies fried to a delicious crisp, the hamsi-rice and hamsi-something and hamsi-something else with lots of sliced olives – but I loved it.
Ibrahim had been right. The Hamsi ruled the culinary scene in this little coastal town.
And for all the days I hung about in Trabzon, it was always hamsi for me. That and cabbage soup (and yes cabbage is meant to be eaten – not just gawked at as I earlier thought. Now I like cabbages too!).
Ordering a meal was easy when you knew what you wanted and better still – my order always brought a smile on their faces. It was their way of saying "anyone who likes hamsi, is welcome here."
Eating The Hamsi is almost a sacred tradition – no make that "IS A TRADITION" on the Black Sea Coast.