Chipolo is a fashionable Bluetooth based tracker & a stylish accessory that keeps track of your valuable items!  
The chip is designed for tracking your purses, car keys, phones and even your pet! It helps find your essential electronic devices, locating your keys or tracing anything of which you tend to lose sight of! With just a quick shake of your chip you can find your smartphone via Bluetooth technology and letting you know its location.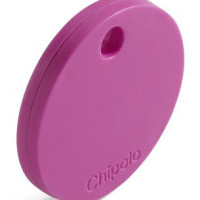 The chip, at only 5mm thin, can be used as a cool extension of your fashion and gadget accessories. Furthermore, if you really are the 'I lose everything!' type you will be pleased to know that the Chipolo app can hold up to 9 Chipolo accounts on iOS and 9 Chipolo accounts on Android for all your tracking needs.
Additionally, Chipolo's reliable memory will also let you know once you leave a device behind, relaying the details of its last whereabouts and also the last time it was noticed by Chipolo so when you come to need it, you will know exactly where to look.
Chipolo is the child company of Boostme, a Slovenian brand which specialises in modern and fresh initiatives that can be incorporated in our daily lives.
Winning is easy! Answer a simple question below for your chance to WIN this cool device.